The Marian Antiphon of Francis Bernardone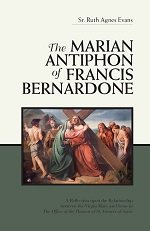 Author: Sr Ruth Evans (St Catharine's 1981)
Publisher: Jeffrey Campbell
This study of St. Francis' Office of the Passion invites the reader to engage with the mind of Jesus as he goes through his Passion in complete abandonment to the will of his Father. It is intended to be used prayerfully. Francis illuminates the interior awareness of Jesus in a unique manner that helps the reader to engage with the Passion from Christ's human perspective. The presence of Mary as she accompanies her son on his painful journey is explored through the beautiful Marian Antiphon which is recited at the beginning and end of every psalm in Francis' series. Through the relationship between his psalms and the Marian Antiphon, St. Francis indicates the relationship between son and mother.
Sr. Ruth shows how The Office of the Passion emerged from the personal development of St. Francis who is the namesake of our Pope and an inspiration for service of the marginalized of today's world. Following his experience as a prisoner in Perugia, Francis embraced an extreme poverty which enabled him to enter into the experience of his poorest contemporaries and the suffering of Jesus. As a result, he became estranged from his father Pietro di Bernardone and cast himself upon the Fatherhood of God.
St. Francis understood how Jesus struggled to bear his fate. Reflections on American death row prisoners are included as an invitation to the reader to look at the way that Jesus, through his imprisonment and execution, shares their terrible predicament. This book will engage anyone looking for a deeper response through prayer to the Passion and Resurrection of Christ. It is written on behalf of all the condemned prisoners of the United States. It is written on behalf of each of them.
Buy online from