Alumni Book Club
Read and connect with your fellow alumni
Join fellow Cambridge alumni in stimulating discussions about our bimonthly book selection. Discussions will be moderated by a dedicated group leader who will share additional content and ask questions to prompt debate.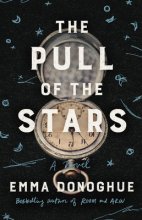 January to March 2021
The Pull of the Stars: A Novel by Emma Donoghue (Girton 1990)
In an Ireland doubly ravaged by war and disease, Nurse Julia Power works at an understaffed hospital in the city centre, where expectant mothers who have come down with the terrible new flu are quarantined together. Into Julia's regimented world step two outsiders: Doctor Kathleen Lynn, a rumoured Rebel on the run from the police , and a young volunteer helper, Bridie Sweeney.
Suggested Reading Schedule
By January 21st, finish reading the first half of Part I: Red
By January 28th, finish reading Part I: Red
By February 4th, finish reading Part II: Brown
By February 18th, finish reading Part III: Blue
By March 4th, you've finished reading the book and are ready to join the End-of-Book Discussion