Alumni Book Club
Read and connect with your fellow alumni
Join fellow Cambridge alumni in stimulating discussions about our bi-monthly book selection. Discussions will be moderated by a dedicated group leader who will share additional content and ask questions to prompt debate.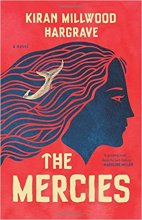 October to December 2020
The Mercies by Kirin Millwood Hargrave (Homerton 2008)
Inspired by the real events of the Vardø storm and the 1621 witch trials, The Mercies is a story of love, evil, and obsession, set at the edge of civilization.
Reading Schedule
By October 29th: Finish Reading Chapters 1 - 7
By November 4th: Finish Reading Chapters 8 - 15
By November 11th: Finish Reading Chapters 16 - 23
By November 26th: Finish Reading Chapters 24 - 34
By December 10th: Finish The Mercies and prepare for our End of Book Discussion
On Thursday, December 17th: Our reading period concludes