Alumni Book Club
Read and connect with your fellow alumni
Join fellow Cambridge alumni in stimulating discussions about our bimonthly book selection. Discussions will be moderated by a dedicated group leader who will share additional content and ask questions to prompt debate.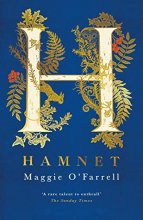 August - October 2021
Hamnet by Maggie O'Farrell
Drawing on Maggie O'Farrell's long-term fascination with the little-known story behind Shakespeare's most enigmatic play, Hamnet is a luminous portrait of a marriage, at its heart the loss of a beloved child.
Award-winning author Maggie O'Farrell's new novel breathes full-blooded life into the story of a loss usually consigned to literary footnotes, and provides an unforgettable vindication of Agnes, a woman intriguingly absent from history.
Suggested Reading Schedule
By August 19th, finish reading to the chapter beginning with, "There is suddenly nothing so excellent as teaching Latin."
By August 26th, finish reading to the chapter beginning with, "Three heavy knocks t the door of the apartment: boom, boom, boom."
By September 2nd, finish reading to the chapter beginning with, "Eliza's letter is taken by a lad from a few houses along…"
By September 16th, finish reading to the chapter beginning with, "A room. Long and thin, with flags fitted together…"
By September 30th, finish reading the book and join us in our End-of-Book Discussion in the Online Forum