Alumni Book Club
Read and connect with your fellow alumni
Join Cambridge alumni for stimulating conversations about our bimonthly book selection. Discussions will be moderated by a dedicated group leader, who will share additional content and ask questions to prompt debate.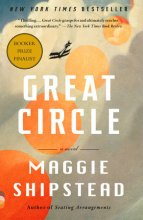 August - September 2022
Great Circle: A Novel by Maggie Shipstead
Over the course of a century, this memorable and epic novel follows two trailblazing women - one a daredevil aviator and one a modern Hollywood star - searching for self-definition and freedom. 
Great Circle was a New York Times bestseller, shortlisted for the 2021 Booker Prize and the 2022 Women's Prize for Fiction, and Time's #1 Fiction Book of 2021.
Suggested Reading Schedule
On August 5th, reply to the Before the Book question and start reading
By August 19th, finish reading through "Grace Kelly"
By August 26th, finish reading through "Millionaire's Row"
By September 2nd, finish reading through "Lodgings"
By September 16th, finish reading through "The War"
By September 30th, finish reading the book and visit After the Book in our forum