Alumni Book Club
Read and connect with your fellow alumni
Join Cambridge alumni for stimulating conversations about our bimonthly book selection. Discussions will be moderated by a dedicated group leader, who will share additional content and ask questions to prompt debate.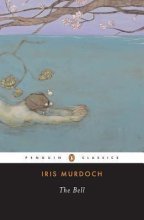 October - December 2023
The Bell by Iris Murdoch (Newnham 1947)
A lay community of thoroughly mixed-up people is encamped outside Imber Abbey, home of an order of sequestered nuns. A new bell is being installed when suddenly the old bell, a legendary symbol of religion and magic, is rediscovered. And then things begin to change. Meanwhile the wise old Abbess watches and prays and exercises discreet authority. And everyone, or almost everyone, hopes to be saved, whatever that may mean. Originally published in 1958, this funny, sad, and moving novel is about religion, sex, and the fight between good and evil.
Suggested Reading Schedule
On October 13th, reply to the Before the Book question and begin reading The Bell
By October 27th, finish reading through 5
By November 3rd, finish reading through 10
By November 9th, finish reading through 15
By November 24th, finish reading through 20
By December 1st, finish reading the book and comment in our After the Book discussion topic 
Past reads
A Gentleman in Moscow by Amor Towles
The Marriage Portrait by Maggie O'Farrell (Murray Edwards 1990)
The Anarchy by William Dalrymple (Trinity College 1984)
The Reading List: A Novel by Sara Nisha Adams
Honor by Thrity Umrigar
Great Circle by Maggie Shipstead
A Long Petal of the Sea by Isabel Allende
The Henna Artist by Alka Joshi
Interior Chinatown by Charles Yu
American Dirt by Jeanine Cummins
Hamnet by Maggie O'Farrell (Murray Edwards 1990)
Girl, Woman, Other by Bernardine Evaristo
The Old Way by Robert Macfarlane (Pembroke 1994)
The Pull of the Stars by Emma Donoghue (Girton 1990)
The Mercies by Kiran Millwood Hargrave (Homerton 2008)
Packinko by Min Jin Lee
Educated by Tara Westover (Trinity 2008)
Alumni Book Club members vote during each reading period to choose the next book. The selection of books on which you vote is usually based on participants' interests, member recommendations and Cambridge authors. The very first book in June 2020 was pre-selected to get the group started.
Alumni are responsible for sourcing their own books.
Participants can either buy, borrow or download a copy of the chosen book.
No, the book club will be entirely online. The advantage of this is that alumni living all over the world can participate, meaning we will get diverse perspectives on the texts we read.
Our book club will have a dedicated moderator who manages the forum where discussions occur online. The moderator will pose questions to the group, share relevant articles, and facilitate conversation about topics in the book. Members will be encouraged to post and share as well. This format allows for ongoing conversation and makes it easy for alumni to connect with each other. 
Books will be read every two months.
If you have on average 30 minutes a week to read you should be fine. There is no required level of participation in group discussions; if don't have time to read one of the books that's okay. The goal of the club is to make connections with other alumni through reading, so if you don't have time to read one of the books, that's ok.
Participation is free for Cambridge alumni.
Readers are responsible for buying, borrowing or downloading the texts we read.