Alumni Book Club
Read and connect with your fellow alumni
Join Cambridge alumni for stimulating conversations about our bimonthly book selection. Discussions will be moderated by a dedicated group leader, who will share additional content and ask questions to prompt debate.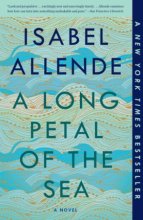 May - July 2022
A Long Petal of the Sea by Isabel Allende's
In the late 1930s, civil war grips Spain. When General Franco and his Fascists succeed in overthrowing the government, hundreds of thousands are forced to flee in a treacherous journey over the mountains to the French border. Among them is Roser, a pregnant young widow, who finds her life intertwined with that of Victor Dalmau, an army doctor and the brother of her deceased love. In order to survive, the two must unite in a marriage neither of them desires. Check out a summary and reviews for it here.
Suggested Reading Schedule
On May 27th, reply to our Before the Book question and start reading
By June 10th, finish reading through Part One, Chapter 3
By June 17th, finish reading through Part Two, Chapter 6
By June 24th, finish reading through Part Three, Chapter 9
By July 8th, finish reading through Part Three, Chapter 11
By July 22nd, finish reading the book and comment in our After the Book discussion topic