"St. Clive:" An Eastern Orthodox Author Looks Back at C.S. Lewis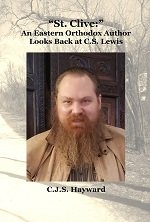 Author: Christos Hayward (St Edmund's)
Publisher: Independently Published
"St. Clive:" An Eastern Orthodox Author Looks Back at C.S. Lewis, adopts an unusual perspective because most examinations of the spirituality of C.S. Lewis come from Western spiritual perspectives, and few adopt the approach of C.J.S. Hayward, who opens his book with a Lewis-type series of letters to a guardian angel, "The Angelic Letters: a Heavenly analogue to The Screwtape Letters." The book is even more distinctive in reflecting back on Lewis from a perspective meant to be thoroughly Orthodox.
This said, Lewis was a huge influence on Hayward's Evangelical upbringing and religious perspectives and the starting point to his "pilgrimage from Narnia" (as one of his poems is titled) into Orthodoxy. St. Clive is not to be considered another scholarly inspection rehashing familiar spiritual pathways, but a unique compilation of Lewis-like reflections steeped in Orthodox beliefs and inspections for everyday readers. It produces a compilation of pieces that attempt to sound like Lewis himself, but which are original works meant to directly address these reflections and beliefs. This book is exciting, almost as if a hitherto unknown book of original works by C.S. Lewis had suddenly come to light.
Indeed, this is one of the unique aspects of "St. Clive." What other treatise holds the ability to reach lay and scholarly audiences alike, creates a wider-ranging series of connections between his works and similar writings, and expands upon many concepts with an astute hand to spiritual, philosophical, and social reflection?
None: and this not only sets "St. Clive:" An Eastern Orthodox Author Looks Back at C.S. Lewis apart from any other considerations, but makes it accessible to a lay audience that might have only a minimal familiarity with Lewis or the Orthodox Way.