Drawn from Life: Selected Essays of Michel de Montaigne, introduced by Tim Parks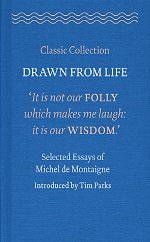 Author: Michel de Montaigne and Tim Parks
Publisher: Notting Hill Editions
Michel Eyquem de Montaigne, the 16th-century French philosopher, popularised the genre of the essay form, a versatile style of writing celebrated by independent publisher Notting Hill Editions.
Montaigne's influence is seen in the works of some of the greatest essayists of all time including Hazlitt, Bacon, Descartes, Asimov and possibly even Shakespeare. Montaigne would come to be recognised as embodying, perhaps better than any other author of his time, the spirit of freely entertaining doubt that began to emerge at that time.
"The appeal has continued unabated through the centuries, largely because his investigations are not merely random; they all centre on one great question which concerns us all: how does one live?" Sarah Bakewell - The Guardian
In this collection, Montaigne ponders the great and small questions of life and subjects as diverse as education, fear, reading and death. Throughout his essays he attempts to reach a deeper understanding of himself and, in so doing, he touches on the greater human condition. His natural curiosity for life shines through in his lively, at times rambling, pieces and the charm of his writing continues to captivate modern readers. Montaigne indicates a direction western thinking could have taken and alas didn't.
"Montaigne suggests a way that Western thought might still have taken, not based on information, idealism or concepts of progress. He is perhaps the last writer who gathers together the vast wisdom of antiquity and, entirely ignoring Christianity, seeks to seduce us toward a happier way of life." Tim Parks
Publication date:
Thursday, 10 November 2016
Buy online from