Adventure Canada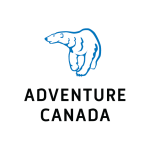 Adventure Canada is a family-run travel operator that specializes in small-ship cruises to the worlds' more remote coastlines. We engage, educate, and entertain by connecting people to each other and the land through travel. For more than thirty years, Adventure Canada has been a leader in "soft adventure" expedition cruises to some of the Earth's great wild spaces. We take passengers who are deeply curious about the world we live in and take them to some of the most extraordinary locations on the planet—in our own inimitable fashion. Our pioneering approach to expedition cruises and small-group experiences emphasizes wildlife, culture, learning, and fun.
Adventure Canada's goal is to help every traveller become an enthusiastic ambassador for the regions and the cultures we visit. We believe travel is an opportunity to enrich people's lives. And we believe getting to know the world is one way of becoming a better global citizen.
We believe that nature has the power to humble, inspire, and move us profoundly. Connection with nature makes us better people. That's why Adventure Canada is dedicated to appreciating the wonders of nature sustainably—in some of the world's most beautiful places.
At Adventure Canada, we make learning fun, deepening our cultural connections and our scientific understanding of the world's farthest-flung regions. We revel in the feeling of being at the edge of the Earth—in the company of those who can help us appreciate its wonder.
Everywhere we travel, we are privileged to work with the people who call the region home—not just onshore, but also aboard. Regional representatives are at the heart of our shipboard staff. Their culture, language, and local understanding of life and the land are woven into our programming, deepening the connections we form as we go.
Regenerative Tourism
Adventure Canada has always focused on giving back. We believe sustainable travel is part of securing a healthy economic outlook for the communities and regions we visit—but we also know we can do more. That's why we established our Discovery Fund, to which every passenger contributes with the purchase of every trip. With our extensive connections and deep relationships, we are able to identify and contribute to a wide variety of causes every year. Adventure Canada also provides non-monetary resources, such as cargo space on our planes and ships to organizations like Project North, which brings sports equipment to youth in the Arctic, and Students on Ice, which provides youth from north and south opportunities to travel together in the polar regions.
Address:
55 Woodlawn Avenue, Mississauga, ON L5G 3K7 CANADA