Women at Cambridge
Discover the history of women at Cambridge in this film series with Dr Lucy Delap and Dr Ben Griffin, co-curators of the University Library's exhibition The Rising Tide: Women at Cambridge.
The impact of women at Cambridge is incalculable. In 1869, Girton College became the first women's College at Cambridge, and the first in Britain, to offer residential higher education for women. But the University did not grant degrees to women until the late 1940s, the last British university to do so. 
In the first film, Dr Lucy Delap and Dr Ben Griffin explore women's historic struggle for equality at Cambridge in the face of mass and sometimes violent opposition.
In the second film, Dr Lucy Delap is joined by Gemma-Claire Ali of Newnham Boat Club and Siobhan Cassidy, Chair of Cambridge University Women's Boat Club, to reflect on the history of women's rowing in Cambridge. In 2013, Cambridge University Women's Boat Club moved into a boathouse on the River Cam, 70 years after being founded, and are still fighting for equality in women's rowing.
In the third film, Dr Ben Griffin is joined by Girton Fellow Dr Dorothy Thompson to discuss the impact of Muriel Clara Bradbrook, former mistress of Girton College and the first woman to become a professor in the Faculty of English. They look at a board game created by Bradbrook following the life of a female academic at Cambridge.
In this final film, Jo Cobb, Head Gardener of Murray Edwards College, joins Dr Lucy Delap in Eliza Baker Court at Girton College. They discuss the influence of former Head Gardener, Chrystabel Procter on the College and on future female gardeners across the University.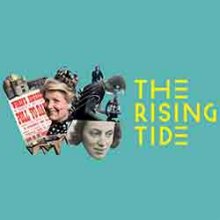 Last chance to see the exhibition
The Rising Tide exhibition will be on display until Saturday 21 March 2020. 
This exhibition marks 150 years since the founding of Cambridge's first women's college - Girton. It's an exhibition of two parts, which draws together materials from collections across collegiate Cambridge. Displays in the Milstein Exhibition Centre focus on the experience of being a woman at Cambridge University over the past 150 years. Along the front corridors of the University Library hang portraits of women associated with the University.
See it at the UL in person or read our article about it.