European adventures with the alumni network
Current students Fiona Garrahan (Trinity 2014) and Aurelia Hibbert (Newnham 2013) took trips across Europe in the summer to meet alumni groups and find out more about the opportunities created by Cambridge's international alumni network.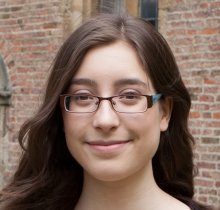 History student Fiona Garrahan writes:
A few months ago, at the bottom of an email, I read about a particularly intriguing opportunity. This opportunity was the Student Travel Award, a new initiative launched by the Development and Alumni Relations office. The award would fund two undergraduate students to travel separately through Europe during the summer. They would visit Cambridge University Alumni Groups along the way, and act as student ambassadors. As I read about the award, I realised that this was something I would love to be involved in. After a lengthy written application, an interview panel, and a few months of booking, planning, and writing emails, I set off on my travels. Over three weeks this September, I visited six different Cambridge Alumni Groups in five countries and seven cities. It has been a complete whirlwind, a somewhat surreal adventure, and a huge personal learning curve.
My travels took me to Paris, Madrid, Brussels, Antwerp, Ghent, Oslo, and Stockholm. In each city, I was welcomed with unexpected warmth and generosity, by both the alumni groups themselves and by individual alumni. Apart from the kindness I encountered, what struck me the most was the sheer diversity of the Cambridge alumni network. No two societies were the same; each one had its own unique composition, specific social calendar, and quirky idiosyncrasies. As a consequence, the experiences I had varied very widely.
During the three weeks of my trip, I had dinner with the President of the Cambridge Society of Paris; attended a lively tapas evening with the Cambridge Society of Madrid; met some fascinating people in the Cambridge Society of Brussels; visited Antwerp and Ghent with the Cambridge Society of Flanders; toured the Nobel Institute in Oslo with the Cambridge Society of Norway; and had a fruitful dinner discussion with the founders of the Cambridge Society of Sweden. And that's just a sampling! It has been a very memorable and incredibly formative experience, both personally and intellectually.
Whilst travelling, one of my responsibilities was to share my experiences with fellow students. As this was the first year of the award, there was no established precedent for how to do this and I had a lot of freedom to experiment. After a little brainstorming, I decided to set up a blog and Facebook page, both entitled 'The Cambridge Traveller'. The Facebook page is a collection of captioned photographs, posted daily, while the blog contains more in-depth accounts of my visits to each alumni group. Initially, I had only expected students to be interested in the blog, so it has been a pleasant surprise to have positive feedback about it from alumni too.
Above all, my travels have been a testament to the strength of the Cambridge community. It is a community that spans across national boundaries, that is truly intergenerational, and that unites students and graduates from all colleges and academic specialities. Together, we form a global network that supports, encourages, and inspires. I am incredibly proud to be a part of this.
When Fiona was travelling, she wrote a blog at thecambridgetraveller.wordpress.com and posted to a Facebook page.
Engineering student Aurelia Hibbert writes:
The Untapped Potential of Student-Alumni Relations
Having received one of the first Student Travel Award to visit alumni groups around Europe this summer, my eyes have been opened to the great support network that exists through ones Cambridge career and beyond. I travelled to five alumni groups in Switzerland, The Netherlands, Italy, Belgium and Germany to meet with alumni and see how we can increase student-alumni engagement.
I met with many wonderful alumni who were testament to the fact that Cambridge provides an excellent all-round education, providing great career prospects. Together we devised some plans to increase engagement, from linking to student nationality societies to hosting skills workshops for recent graduates, each tailored to the type of group.
It became immediately apparent that the alumni are keen to engage with and help current students but there just isn't an easy means to do so yet. Neither group has a structured way to find out who they should contact and with such vast networks it becomes quite daunting.
The Student Travel Award is a great first step to building these relationships and to make particularly the students aware that the alumni are available and willing to help out where they can. There are many student societies that share interests with alumni groups and it just takes one person to reach out and start what is likely to be a long and valuable relationship with either an individual alumni or indeed a whole group.
I hope that over the next few years we will start to see societies forming student-alumni relationships and that more individuals will feel able to contact alumni for mentoring and individual help, especially when travelling to other countries. I could not have hoped for a more encouraging experience that showed me the great possibilities for these relationships and I hope that the [University's Development and Alumni Relations office] CUDAR and the Student Travel Award recipients will continue to build the bridges.
When Aurelia was travelling, she tweeted from the account @camtweetengine (now run by another Cambridge engineering student) and a blog: ahibbertfortune.wix.com/openingupthebubble.
About the Student Travel Award
Students will have the chance to win £1,200 to develop their professional networks with alumni in the second Student Travel Award.
The award, launched in 2015, offers four undergraduate students up to £1,200 each to visit alumni groups across Europe and share their experiences with other students.
One winner of our first ever Student Travel Award, Fiona said: "The award is a unique opportunity to travel as a student ambassador for the University and to see Europe through the eyes of Cambridge alumni ... Our discussions were a real source of inspiration, an insight into graduate life across Europe and a testament to the strength of the Cambridge community."
Fellow winner Aurelia Hibbert added: "As a Cambridge student, you are now part of one of the greatest networks in the world and it is very easy to forget that when studying in the library alone ... I look forward to joining many alumni groups on my graduation."
Fiona said the qualities to demonstrate in a winning application are: "Good organisational ability - it is a big logistical task - a flair for communication (to convey your experiences with fellow students) and a desire to exchange stories, ideas and experiences with the alumni you meet because this is, really, what it is all about."
Applications for the award open on 11 January 2016. For more information, visit www.alumni.cam.ac.uk/get-involved/student-travel-award.
The student contributions above been edited for length - fuller details are available on the Student Travel Award webpage and their blogs.