Empowering, educating and entertaining Cambridge's Caribbean students
With a Michaelmas term card as full as a fresher's post-bop brunch plate, the Cambridge African Caribbean Society (ACS) is one of the University's most active student societies.
Members will attest to the importance of the ACS to their Cambridge experience. The society provides students of African and Caribbean descent with a support network, championing their voices across the university and supplying them with tools and resources to safeguard their well-being and success.
We talk to the society's very first Caribbean Officer, Izzie Clark Headley, ahead of her event aimed at reconnecting with Caribbean alumni. Here she discusses the work she is doing to support Caribbean students at Cambridge, her own experiences at university, and how Caribbean alumni can help support current and prospective students from the islands.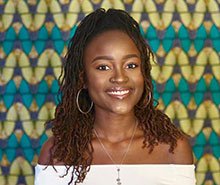 Interview with Caribbean Officer Izzie Clark Headley (Girton, Human, Social, and Political Sciences)
The African Caribbean society is a network that promotes, supports and looks after students of African and Caribbean descent across the university. Our official slogan is empower, educate and entertain, so we put on a variety of events that reflect this. These include welfare 'chill' sessions, house parties, career events and skill sessions.
When I joined the ACS I felt like the 'A' was more pronounced than the 'C'. One of the first things I noticed was the variety of music when you go to certain events. There's wasn't much Caribbean music but a lot of afrobeats and London-based music. Seeing that community experience their music was great but I was like 'that's not my music, those aren't my dance moves.' I can appreciate it and I can enjoy it but there's a whole bank of music from the islands that is not represented, so I felt like I was always celebrating other people's culture but not my own.
During the Windrush Scandal, under-representation of Caribbean voices came to the fore. At some ACS events a lot of the conversation focuses around people and issues affecting the continent [of Africa] but there was no one to talk about what's going on in the islands. When the Windrush Scandal came out I struggled to find someone to critically talk about it with and be like 'that happened to my grandparents, that happened to my family' or 'this affects me'. Your friends can empathise but it's not their experience, it's not their story.
I advocated for a Caribbean officer to be added to the ACS committee. I was tired of complaining but not having anybody to deal with my concerns. I wanted to address the under-representation and see if having a Caribbean officer would help Caribbean students that have not engaged with the ACS for whatever reason to realise that this is a space for them. 
Both of my parents grew up in Barbados and I lived there for a couple of years with my grandparents. On the basis of her A-level results, my mum won an academic scholarship which enabled her to pursue her undergraduate studies in Land Economy and Computer Science at Murray Edwards College. During her time here she served as CUSU Green Officer and started a society for Caribbean students called CU Carib. In my mum's recollections, there were visibly more Caribbean students around back then and they were more unified. They would host events, formals, Caribbean club nights and cultural performances. They also volunteered to help chaperone year 12 students during the University Open Days to make sure the community of Caribbean students was represented.
My favourite ACS event so far was a Cambridge Oxford University Challenge. We went over to Oxford and competed in quizzes and games, which was fun but the best part was seeing the ACS together outside of Cambridge. On the coach journey there we were all very supportive of each other and enjoying each other's company. There was a feeling like 'this is our community, this is our space. We are a group and not as disparate as it might seem.' That was really lovely to see.
Caribbean students have one of the lowest success rates of getting into Cambridge. In my year there are about six students of Caribbean heritage across a group of 3,000 undergraduates. These numbers need to be investigated so we can identify why so few get into Cambridge and what barriers currently exist.
Alumni can make a difference. Pressure your Colleges to investigate the low success rate for Caribbean applicants. And if you're of Caribbean descent please consider attending our Lent Term networking event [detailed below]. Relive your time here and share your experiences. We're here and we want to connect with you.
Event for alumni of Caribbean heritage
When: Saturday 2 May 2020, 6.30pm-9.30pm
Location: Girton College
The ACS warmly invites Caribbean alumni back to Cambridge for the inaugural Caribbean Alumni and Student event. We will celebrate the rich history and unique legacies of students of Caribbean heritage at the University of Cambridge and further the discussion about future progression. Come and share your stories from Cambridge and beyond, and connect with fellow alumni and current students.
The event will consist of a drinks reception amidst an exhiition of notable Caribbean alumni, followed by a three-course Caribbean-inspired dinner. Following the dinner, guests are encouraged to continue networking in the college's Social Hub. 
If you are unable to attend the event, the ACS still wants to hear from you. Caribbean alumni are encouraged to send in any memories, anecdotes or top tips that they might have from their experiences before, during and after their time at Cambridge.