Celebrating Cambridge Volunteers: International Volunteer Day
"As volunteers you are our advocates and ambassadors, you play a vital role in helping us to promote the mission and core values of the University which include the pursuit of education, learning and research at the highest levels of international excellence."
Professor Sir Leszek Borysiewicz
It's International Volunteer Day on 5 December, so we're celebrating the many ways in which volunteers contribute to the Collegiate University community.
Volunteers are vital ambassadors for Cambridge. Designated by the United Nations in 1985 as 'an international observance day to celebrate the power and potential of volunteerism' (UN), International Volunteer Day is one of many opportunities to appreciate volunteers, and for anyone to get involved with their local community. So to all of our volunteers, we say thank you, and to others, we invite you to get involved.
In Cambridge
We are grateful to the alumni who volunteer at graduation ceremonies and to those who assisted at this year's Alumni Festival. The Collegiate University is bursting with opportunities for volunteers, from assisting with largescale events such as the Science Festival and Festival of Ideas to helping museums and collections day to day.
Cambridge's global network
Beyond the city, Cambridge alumni form a worldwide network built upon the work of committed volunteers offering events, advice and other connections to each other, students and staff. Recognised Alumni Groups regularly hold Welcome to Cambridge events for those in their area who are about to start an undergraduate or graduate course at the University, whilst others undertake the task of running the group themselves.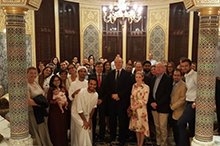 UAE Oxford and Cambridge Alumni Group talk about their schools outreach event:
"We organised a networking session for alumni and prospective Oxbridge applicants and their parents, kindly hosted by Dubai College. The event was filled to capacity of 100 and included schools, University Counsellors and alumni who shared their experiences with aspiring students from a number of different schools across Dubai.
In this last year of the Schools Outreach Programme, over 20 students from UAE schools received offers from Oxford and Cambridge Universities. It's clear that the Group's support in the form of mock interviews, reviews of personal statements and mentoring, as part of a co-ordinated effort with schools and students, is having a significant impact on the numbers of UAE students gaining access to an Oxbridge education.
Munira Rajkotwalla, a Year 13 student from GEMS Wellington Academy Silicon Oasis is hoping to study Human, Social and Political Science at Cambridge, described the event as 'absolutely inspirational' and many of the school representatives said that they had acquired a better understanding of what more they could be doing to support students wishing to apply to Oxbridge."
Getting involved
With so many opportunities worldwide, now is the time to get involved; find out how on our volunteering page. Join in online - tell us about your volunteering on Twitter by using the hash tag #camvolunteer - you can find us at @camalumni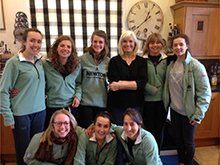 Felicity Rutland talks to us about running 'welcome to Cambridge' parties and being a landlady for Cambridge rowers:
"Volunteering has always been a hugely enjoyable part of my life to be involved with a number of activities connected to Cambridge, but I hadn't thought of it as 'volunteering' until recently. Volunteering is an increasingly important part of our university's life and future and I would love other people to understand the significance of it and how rewarding it is. I have always felt that I was doing things because they were fun rather than because they were needed, and I have got just as much out of them personally as I have contributed, if not more!
For the last 35 years I have been immensely proud to have had dozens of committed and talented young Cambridge rowers staying with me, nine at a time, for an intense week of training (and eating!). Most of the girls were here for just one year but several for two and a couple for three, and it has been fantastic to see some of them go on to such amazing success, including several Olympic medals. I often feel that I acquired a large number of additional daughters, some of whom I still see regularly.
I have been helping run the Oxfordshire Alumni Group for the last 20 years. Following a massive recruitment campaign with the help of the alumni office, we now have nearly 600 members, of all ages, which makes us one of the largest groups. We run a varied programme of lectures and outings and I am currently in charge of organising and marketing these. The 'Welcome to Cambridge events' are held around the country in September each year for the youngsters in the area who are about to take up places at Cambridge. I see them as the most important thing that the local Alumni Groups do - they are immensely rewarding and fun. Once again I am finding it very rewarding and fun to be involved in something I care passionately about and which has such a valuable role to play – which is what volunteering is all about."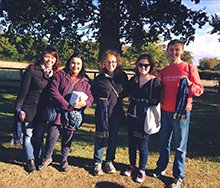 The Gates Cambridge Scholars' Council tells us about two great causes they support:
"We organise the annual Day of Service during which Scholars participate in a number of community service activities. We have participated in spring cleaning activities since 2013 and also assist WinterComfort with fund raising from time to time.  In addition, Scholars have volunteered at Jimmy's Night shelter and for the St Vincent de Paul Society Soup Run programme. In 2016, Scholars assisted the Cambridge Calais Refugee Action Group with a jumble sale fundraising event and assisted WinterComfort at their shelter.
The East Anglia Children's Hospice provides care and services for children with long-term illnesses. Scholars became involved with EACH in 2016 and have volunteered during fund-raising activities such as the Ely Colour Dash and Grantchester Fun Run. We will also be assisting EACH by baking Christmas cakes which they will sell at the Ely Christmas Faire and have also raised over £500 for EACH by hosting an auction of acts of kindness."
Gill and Chris Maynard tell us about reconnecting with the University and Alumni Festival volunteering:
"We moved to Cambridge this summer and volunteering at the Alumni Festival seemed the ideal way to reconnect with the university and give something back to an institution which has been so important in our lives. Our first impression on the day was of the lively, atmosphere; it felt good to be part of the team making it all happen. Everyone was relaxed and friendly and our polo shirts and badges gave us a good excuse to strike up conversations with all kinds of interesting people. An added bonus was that we were both assigned to lectures we would not normally have chosen to attend, and which proved fascinating. A great day and we're already looking forward to the next one!"
Moving on and up
Rejuvenating an Alumni Group became Trevor's way of finding university contacts when he moved to a new area. He soon got involved with setting up events and giving back as a volunteer.
Trevor Webb talks to us about his time volunteering for the Birmingham Group of the Cambridge Society:
"Wishing to make new contacts and shape a social circle I sought the Birmingham Group of the Cambridge Society, when in 2001 I relocated from Hampshire to Stratford-upon-Avon. I found the Group in hibernation and set about reconvening their organising committee. From this intervention stemmed an annual itinerary of five or six events, comprising a Christmas lunch; Freshers' welcome event; lectures by leading University of Cambridge academics, in collaboration with Birmingham Universities and professional bodies; 'technical visits', often to manufacturing plants, such as Jaguar cars; social evenings, regularly to the theatre, and; visits to historic buildings.
My involvement in the committee and eventual chairmanship brought me back to Cambridge initially through my attendance at the Leadership Conference, arranged each July by The Development and Alumni Relations office for Alumni Group organisers. Through this I was invited to join the 'Networks and Volunteers Working Group', which meets bi-annually to offer guidance to the Alumni Relations team specifically on the network of Alumni Groups around the world. My volunteering later expanded to lending a hand at the Alumni Festival in September and Graduation Ceremonies, which take place throughout all three terms, these are both rewarding and up-lifting occasions. It has been good to give something back."
About International Volunteer Day
International Volunteer Day is organised by the United Nations. They can be found on Twitter at @UN using the hash tag #GlobalApplause. Find out more on the UN Volunteers website.