Cambridge engineers are going for gold at Tokyo 2020
Professor Tony Purnell, Visiting Professor in the Department of Engineering, discusses Cambridge's contribution to Olympic success, the future of cycling in the city and the wider potential of their findings from the track.
One of the joys of being at Cambridge is meeting people who have real expertise in all kinds of areas. They give you a different way of thinking.
Tony is a Fellow-Commoner in Engineering at Trinity Hall, former Team Principal of the Jaguar Formula One motor racing team and has been Head of Technical Development at British Cycling since 2013.
"I use technology in any way possible to make the Olympic team quicker, that's basically my role," said Tony. For some of Tony's students, their fourth-year engineering project can quite literally help Team GB go for gold. "The work the students do really does translate into Olympic success, so I think the projects have a glamorous end game."
"There were significant contributions to the Rio performance from Cambridge academics and students," said Tony. Team GB's cycling performance in 2016 was enormous. "I think every time trial in the velodrome was an Olympic record, every rider from the British team that went to the velodrome won a medal – it was outstanding. But now I'd argue we probably overdid it, because the rest of the world has woken up to the fact that an engineering approach works in cycling. We're going to have to do something pretty special in Tokyo to keep that technical lead."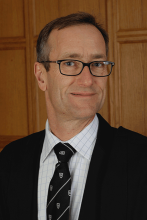 The road to Tokyo
With the success of Rio at the back of everyone's minds, the road to Tokyo has been scattered with obstacles. Last year's press coverage impacted sponsorship, which has affected Tony's role. "We had a massive delay in some of the financials and new regulations means we've had to halve our development period," said Tony. "To balance that compared to Rio we're working much more as a team for Tokyo. A lot of the stuff we're doing this cycle won't work without the coaches and riders getting involved."
Tony's schedule for the next nine months is packed, with activity all over the UK. It's this energy however that keeps him going: "Engineering is difficult and when you're doing something for the first time it's especially difficult, because stuff goes wrong," said Tony. "This time around we are doing some genuinely new approaches and of course things are going wrong left, right and centre - it's hard, but it's definitely fun because we're really trying to break new ground. I'm utterly blessed to have the team we've got and I'm fanatical about delivering what we've invented."
Cambridge connections
Tony has been a Visiting Professor at the University for over 10 years. "The University is like a vortex. Keith Glover from the Department of Engineering called me up and asked if I could do a lecture, then another, then a position came up and you say yes and then you get sucked in, but I really enjoy it. I've met people who know nothing about cycling but are experts in dynamics or structures. That's one of the joys of being here – you meet people who have real expertise in all kinds of areas. More often than not they'll give you a different way of thinking that you'd never previously entertained."
Tony's work with the students has earned him the reputation of building his own 'mafia' within cycling. "One student who did a PhD in cycling is now at British Cycling as our analyst, another PhD student is doing jaw-dropping work, we've got ex-Cambridge people involved in the consultancy companies we use. There's a strong and healthy follow-up rather than just being a project that's done and forgotten."
Making city centres safer
"I just don't think the council has enough courage," said Tony when asked about the future of cycling in Cambridge. "I would change it into a pedestrian and cycling city, and get rid of cars, with deliveries within certain hours and just single-track roads for taxis. It needs a council with all guns blazing. Cambridge could be an exemplar for what's possible. City centres completely without cars are just around the corner, we need pioneers."
Moving on to the topic of safer cycling, Tony is in support of running the numbers. "I'm a huge believer in looking at the statistics and then concluding that there is a problem, not the other way around," he said. "At the moment, we live in a world where emotion sets the agenda. Looking at the numbers would enable us to make life safer and better for society, and not get as obsessed with the outlier cases. It affects my little world of cycling, but I think it affects everyone, everywhere. He who shouts the loudest and with emotion gets through. Who cares about the facts?"
Until then, Tony's one wish for cycling in Cambridge is simply for cyclists to look behind them before they turn.
Engineers change the world
The cycling industry has pushed engineering to its limits in recent years, moving constantly towards efficiency. "We could disseminate everything we've learned from cycling to low-speed vehicles, wind turbines, systems design and road traffic controls," said Tony. "I believe it's engineers who change the world, not politicians."
Despite leading the engineering charge in cycling, Tony hasn't always been a believer in its power on the track. "When I was a boy, I used to dream of beating one hour for a 25 mile time trial. Then I got this job and knew it was time to take aerodynamics seriously. I started racing again in my early 50s and went from struggling to do it in an hour, to doing it seven minutes under, all with the same power. That was when the penny dropped that aerodynamics is super-important. Members of the University Cycling Club are doing 25 mile time trials regularly in under 50 minutes. They're not genetically superior to 10 years ago - it's a change in the mentality, the kit and our understanding of the sport."
The next big thing
With Rio's success behind him and Tokyo lying ahead, Tony is aware they're reaching a tipping point in just how much more they can do. "We're still finding advantage, but it's definitely getting harder. Technically, I think we're close to hitting the wall," said Tony. So what's the next big thing? "I think there's masses still to do with training methods to get the most out of each human. The Chris Froomes of this world have a supreme mental strength yes, but they're also not genetic freaks. The future will be that people keep emerging who are outliers, and they'll be really, really good. Couple this with engineering and we'll see records tumble for some while yet."