Cambridge athletes light up the Olympics
Cambridge athletes have won medals and acclaim at the Olympic games in Tokyo.
Representing their individual countries across a wide range of sporting events, Cambridge athletes have had a fantastic Olympics in Tokyo. In the profiles below, you can learn more about some of these incredible competitors.
Rowing
Success on the water brought Henry Fieldman (Homerton 2012) and Team GB a bronze medal in the Men's Eight. Henry became a two-time world champion and Cox for Team GB after completing a master's degree in Psychology and Education at Cambridge. 
Elsewhere in men's rowing, two Cambridge alumni competed in the Men's Single Sculls. Dara Alizadeh (Hughes Hall 2017), who was president of the Cambridge University Boat Club when he won the Boat Race in both 2018 and 2019, represented Bermuda in this Olympics, after previously rowing for the USA in junior competitions. Husien Alireza (Hughes Hall 2016) also rowed in this year's Single Sculls – he is the first ever Saudi Olympic rower, and captain of the Men's Saudi Arabia National Rowing Team.  
Three Cambridge alumni also raced in the Women's Rowing events. First up was Imogen Grant (Trinity 2014), racing for Team GB in the Lightweight Women's Double Sculls. In Imogen's semi-final, Team GB took victory with a world-best time (at that point) of 6 minutes 41.99 seconds. But in the second semi-final just ten minutes later, the Italian team won with a time of 6 minutes 41.36 seconds, setting a new world record. In the final, the Team GB pair missed out on a medal by one-hundredth of a second in a photo finish. 
Olivia Coffey (Homerton 2017) also finished in 4th place, this time for the USA in the Women's Eight. Finally, Ida Gørtz Jacobsen (Newnham 2018) represented Denmark in the Women's Four, where she placed 8th.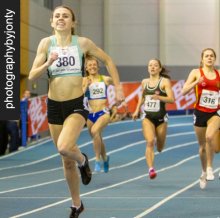 Athletics 
Current student Louise Shanahan (Trinity 2019) represented Cambridge on the track. Louise, racing for Ireland, went out in the heats of the Women's 800m event. When not in training for her career in elite athletics, Louise is studying for a PhD in quantum physics, where she is investigating the use of nano diamonds to measure the temperature inside human cells.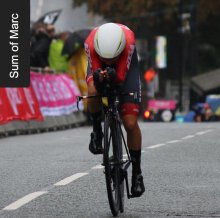 Cycling
Finally, and perhaps most spectacularly, amateur cyclist Anna Kiesenhofer (Emmanuel 2011) won gold for Austria in the Women's Cycling Road Race. Anna was so far ahead of Holland's Annemiek van Vleuten that the latter celebrated when she crossed the line – not realising that Anna had won the race one minute earlier. While she completed a master's in Mathematics at Cambridge, Anna was part of the University's cycle and triathlon clubs. She is currently a postdoctoral researcher at the Swiss Federal Institute of Technology.