A warm welcome to our new undergraduates
Congratulations to all the students who have successfully met the terms of their Cambridge offers. These students have faced immense disruption to their education, so their excellent results this summer are a testament to their effort and determination.
The University has published initial figures from the 2022 admissions cycle. With a few decisions still outstanding, the University will be admitting just under 3,600 undergraduates this year.
Cambridge will welcome another record number of state school students. Around 72.5% will come from the maintained sector (up from 71.6% in 2021). A total of 84 students were admitted through the August Reconsideration Pool (formerly Adjustment). These are students from less advantaged backgrounds who are likely to have narrowly missed out on an offer in January, but who then went on to achieve high grades at A-level, demonstrating their potential for Cambridge.
A further 47 students have been successful in securing a place on the University's Foundation Year. This provides a fully funded, year-long study in the Arts, Humanities and Social Sciences for those who have faced educational disruption or disadvantage.
Around 21% of this year's freshers will be international, slightly down on last year. With more than 22,000 applications for 2022 entry, competition has remained high, with 6 applications per place.
Here are some of the new undergraduates who will be joining us: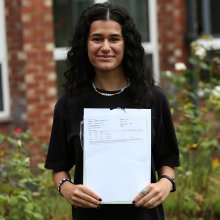 Hawa Dar
18-year-old Hawa is coming to Newnham College to study Medicine after achieving three A*s in Chemistry, Biology and Mathematics at the Manchester High School for Girls.
She says: "It's been a rollercoaster of events. We went into lockdown, we had to adapt to teaching from home. The teachers were so supportive, and it was difficult for them too; it was a brand-new situation for all of us. Manchester High's community is amazing, it's like a little family. I want to say a massive thank you; my friends and family have been amazing. Me going to Cambridge is because of all of them."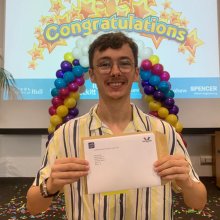 Kelham Hillier
18-year-old Kelham is the first student from Ron Dearing UTC in Hull to gain a place at Cambridge. He's coming to Pembroke College to study Engineering after achieving a Distinction* in Engineering and A*s in Maths, Further Maths and Physics.
He says: "I'm very relieved. It has involved a lot of stress and hard work but I'm so happy to get these results and it's all been worth it. I've really enjoyed my four years at Ron Dearing UTC. I considered the apprenticeship route but Cambridge is definitely an offer I can't turn down."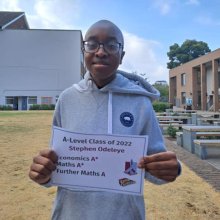 Stephen Odeleye
18-year-old Stephen is coming to Lucy Cavendish College to study Land Economy after achieving two A*s and an A in Economics, Maths and Further Maths at St Thomas the Apostle School in Southwark, London.
He says: "I got into the course I was searching for. Cambridge had that course for me. It's broad and versatile and that's what really stood out about Cambridge for me. I like that Cambridge looks at you holistically, not just your marks. I'm the first in my family to go to Cambridge or any Russell Group university. I'm proud of my achievements because to get a place at Cambridge is very competitive."