Events
From lectures to annual dinners, Group events provide the chance to reach out and connect with your Alumni Group
A varied events programme can help strengthen a Group's membership by retaining existing members and attracting new members. Below are some event ideas that you could build into your Group's calendar:
Academic – lecture or presentation by a visiting academic. Our new Speakers' Bureau service can help you source potential speakers for your events if required.   
Collaborative events – joint with another Group. This can include another Cambridge Alumni Group, or a Group from another institution e.g. Oxford, Harvard, Yale etc
Cultural – local museum tours, historic houses, gardens or art galleries  
Family – picnics, visiting a local park or family show  
Freshers' events – for new students, engaging future alumni  
Networking – making connections and finding out more about career opportunities and experiences   
Outreach events – encouraging applications to the University  
Social – drinks receptions, informal dinners, events associated with prominent dates
University support 
Tips for making our event stand out:
Keep the event title short and snappy
Provide a contact person who can assist with inquiries
Use a short informative description to attract people to book
Be sure to note if there is a cost for the event  
We recommend sending a reminder or 'last chance to book' email to members around 1-2 weeks before the RSVP date of the event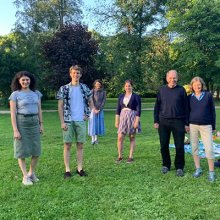 Norway Cambridge Alumni Society
As the lockdown restrictions start to ease The Norway Cambridge Alumni Society recently held an in-person event. An alumni picnic and games of Molkky were played.
It is great to see some in-person events starting to take place since the coronavirus pandemic.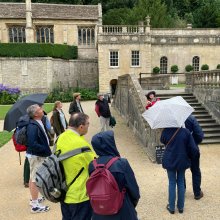 Cambridge Society of Bristol and Bath
The first in-person event since lockdowns began, a large group enjoyed meeting up with other alumni for a picnic. The Group picnicked with the splendid east front of Dyrham before them and enjoyed chatting to old acquaintances and meeting new people.
Sally Dore gave a bit of background to the building of Dyrham and its inhabitants, particularly William Blathwayt, Secretary at War to William III, who was responsible for rebuilding the house as we see it today