The Worst Golf Course Ever: Coldham Common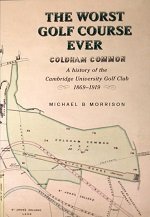 Author: Michael Morrison (Darwin 1978)
Publisher: Michael B Morrison
Bernard Darwin famously described Coldham Common in nineteenth century Cambridge as 'the worst course I have ever seen, and many others would probably award it a like distinction'. Flat, featureless, frequently waterlogged, with foul-smelling ditches, a rifle range and local hooligans stealing golf balls were just some of the attributes that justified Darwin's assertion. And yet from modest beginnings in 1869, CUGC would thrive and by the early 1890s, become one of the largest golf clubs in England. The book recounts the first fifty years of CUGC's history, from its foundation until the First World War. At its heart is the detailed chronicling of the life and times of the undergraduates playing golf on the 'links' at Coldham Common.
The book includes a biographical portrayal of the central figure within CUGC,  William T Linskill. He was the initiator of the first Varsity match in 1878; he was also supremely eccentric. The worsening conditions at Coldham Common ultimately forced CUGC to take some crucial decisions at the turn of the century, one consequence of which is a lasting relationship with Royal Worlington and Newmarket Golf Club. The book also tells a contemporary tale about two iconic, but absent, trophies associated with these earlier times, the Linskill Cup and Dunedin Cup. The author drew on his extensive research in a quest to find the missing silverware. Detective work, persistence and quite a bit of luck lead to their eventual recovery. Even then there were some surprises in store.
"Mike Morrison's account of The Worst Golf Course Ever including the formation of the Cambridge University Golf Club with its first proper course at Coldham Common, is a fantastic read." - Professor Adrian Dixon, President of the Cambridge University Golf Club
The Worst Golf Course Ever: Coldham Common, a history of the Cambridge University Golf Club, 1869-1919 consists of 170 pages including around 40 illustrations and is published in hardback and colour. It has been written on a non-commercial basis with all profits from sales to be donated to CUGC. Books can be ordered at £15 per copy (plus postage & packing) from the author.