The Final Whistle: The Great War in Fifteen Players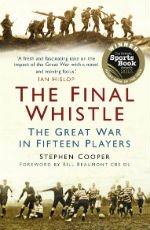 Author: Stephen Cooper (Trinity 1977)
Publisher: The History Press
Winner Rugby Book of Year: Times British Sports Book Awards 2013
With Foreword by Bill Beaumont CBE DL Chairman RFU
This is the story of fifteen men killed in the Great War. All played rugby for one London club; none lived to hear the final whistle.
Rugby brought them together; rugby led the rush to war. They came from Britain and Empire to fight in every theatre and service, among them a poet, playwright and perfumer.  Some were decorated and died heroically; others fought and fell quietly. Together their stories paint a portrait in miniature of the entire War.
Founded in 1879, when British soldiers fought in Afghanistan as they do today, Rosslyn Park has no Great War memorial. An old press cutting gave numbers - 350 served, 72 died - but no names. So began a quest to rediscover these men and capture their lives, from their vanished Edwardian youth and vigour, to the war they fought and how they died.
This is their story.
Follow @GreatWarRugby on Twitter
Buy online from