The Colleges of Cambridge University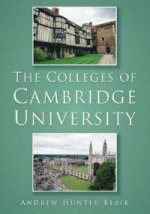 Author: Andrew Hunter-Blair (Cambridge resident and local history author)
Publisher: The History Press
Cambridge University is one of the most well-known and iconic universities, boasting a reputation unsurpassed by few others. This new title from Andrew Hunter-Blair provides a unique insight into the workings, both past and present, of the 31 colleges that comprise Cambridge University, showcasing the college connections whilst also detailing the university's diverse roles.
From Christ's College and Hughes Hall to Peterhouse and Wolfson College, The Colleges of Cambridge University discusses all aspects of Cambridge University life. Thoroughly researched and fully illustrated by the author, this title is the first book of its kind to provide such history behind all the 31 colleges, utilising the unrestricted access afforded to him by each college.
Encompasses a wide range of topics associated with the University as a whole including buildings, libraries, famous people and gardens.
The colleges allowed the author unrestricted access within their grounds to take this collection of stunning photographs.
Illustrated with over 150 black and white photographs taken from in and around the various colleges.
Buy online from