Teach us of Love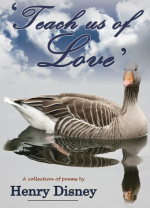 Author: Dr R Henry Disney (Sidney Sussex 1959, Senior Research Associate in the Dept of Zoology)
Publisher: Pneuma Springs Publishing
This collection of stirring verses gathers into a single volume previously unpublished poems primarily concerned with musings about the author's Christian faith–a faith which is neither facile nor sentimental–a faith which is less concerned with abstract doctrine than with living out the Gospel in every day living and in how one relates to the variety of people one encounters. Topics include family life, human nature, politics, an earnest faith and a variety of poignant situations. These poems, ranging from a few verses to more lengthy pieces, are all sincerely and skilfully crafted and are designed to enrich, edify and empower. The verses are as challenging as ever, and they cover the poet's varied experience and encounters with a diversity of people. These poems shine a critical, but compassionate, light on contemporary people and events. These poems are, to borrow a phrase "from a beautiful mind, and also a tough mind."
The author is a Research Fellow at the University of Cambridge and author of more than 550 scientific publications. He served on the planning authority for the Yorkshire Dales National Park, and is co-founder and co-editor of the acclaimed Naturalists' Handbooks series. Otherwise he is a father and grandfather. All the above and more are reflected in these skilfully crafted and sometimes thought provoking poems.
This eighth collection of poems by Henry Disney is intended as an In Memoriam for his wife, Audrey, who died unexpectedly in 2012. The title is taken from Jean Holloway's great hymn - LORD, WE COME TO ASK YOUR HEALING, TEACH US OF LOVE.
Publication date:
Thursday 15 November 2012
Buy online from