Reds, Whites & Varsity Blues: 60 Years of the Oxford & Cambridge Blind Wine-tasting Competition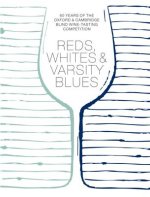 Author: Edited by Jennifer Segal
Publisher: Pavillion
The book celebrates 60 years of the varsity blind wine-tasting competition, the oldest contest of its kind founded in 1953 by the legendary Harry Waugh (a cousin of Evelyn and Auberon Waugh) when he was with the historic wine merchant Harveys of Bristol. Champagne Pol Roger assumed the varsity match sponsorship in 1992. The book reads as a social history through a collection of rarely granted interviews and contributions - oral histories and memoirs - featuring notable competitors over the years and the great and the good of the wine trade and press (a sampling of names appears on the back cover of the book, attached), and is punctuated by sidebars on wine-loving dons, merchants, college wine cellars, wine trade organisations, venues and tasting notes. It reveals in parallel the globalisation of the wine industry, and notes the changing composition of blind wine-tasting team profiles over sixty years (ie, the first women, and international students, including the first American and Asians, to compete).
Adorned with historical newspaper clippings, photographs and wine ephemera, the book is also inclusive of an appendix with an essay on 'Blind-Tasting Today' by Edward Ragg and Fongyee Walker (both Cambridge alumni) of Dragon Phoenix Wine Consulting (shortlisted for the 2013 WSET Wine Educator of the Year Award for their work in Beijing, China) which is coupled with a starter Oxbridge blind wine-tasting guide for readers.
Royalties will be held in trust for the benefit of the university blind wine-tasting teams.  Copies are also available at Berry, Bros & Rudd at No 3 St James's Street, London.
Buy online from