Out of Range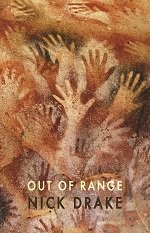 Author: Nick Drake (Magdalene 1980)
Publisher: Bloodaxe Books
This fourth poetry collection from the London-based screenwriter, playwright, poet and Magdalene graduate Nick Drake takes on some of the most pressing issues for the planet in poems about plastic waste, the Whitechapel Fatberg and climate change.
The poems in Out of Range expand on environmental concerns raised in Nick Drake's last collection The Farewell Glacier, his book-length sequence of poems set in the High Arctic. His new book also includes a series of three poems about the Arctic.
Out of Range includes the bottle-shaped poem 'Still Life: Plastic Water Bottle (used)' – written before the issue of plastic in the ocean was highlighted by the BBC's Blue Planet II and Drowning in Plastic. The collection has other poems looking at ecological concerns.
Out of Range moves in time from contemporary urban life, with poems on homelessness, bicycle couriers, cafés and clubs, to poems featuring an Aztec ball game and a story of gay love from the Song Dynasty.
Publication date:
Thursday 15 November 2018
Buy online from