Local literacies in early childhood: Inequalities in Place, Policy and Pedagogy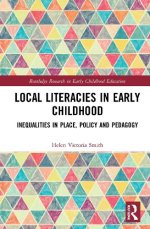 Author: Helen Victoria Smith (Hughes Hall 1999)
Publisher: Routledge
This book contributes to current debates about the importance of early literacy and the different ways that literacy resources offer support to parents with young children. It sheds light on the impact of policy discourse and austerity measures on community resources designed to support children's early literacy learning.
Based on an ethnographic study carried out in a small town in the East Midlands, UK, the book shows how government policy is enacted in four local resources – Sure Start children's centres, pre-schools, a public library and privately run parent and child early education classes. It reveals how inequalities and contradictions exist in different forms of community literacy provision which can explain some of the educational differences evident when children start school. With a particular focus on mothers, the book reveals how parents are supported differently depending on where they go and how they are viewed by the professionals they encounter. The book contributes to the current literature around literacy in early childhood and combines a unique case study with theoretical concepts to offer a new way of thinking about early intervention, parental engagement and school readiness.
Local Literacies in Early Childhood will be highly relevant reading for researchers, academics and postgraduate students in the field of early childhood education and literacy education. It will also be of interest to policymakers, early childhood professionals, literacy advisors and librarians from different local, national and international contexts wishing to support parents and children more equitably so that learning opportunities can be maximised and educational inequalities tackled.
Buy online from