Late night lessons from the COVID-19 Crisis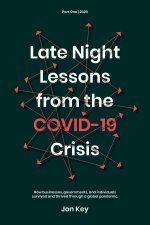 Author: Jon Key (Sidney Sussex 1993)
Publisher: Self-published
This book is written for anyone who was affected by the COVID-19 crisis – which is to say, everyone on the planet! Reflection is important to moving forward, and we all have much to reflect on since the virus first struck.
Whether you are leading a business, working as an employee, playing a role on the front line, or are simply an observer of the decisions that businesses, governments, and individuals are making, this book is intended to help you to reflect on the recent past and apply the lessons to the future.
My network of independent consultants has been drawing upon the many years we have spent helping businesses manage through crises to respond to the challenges of COVID-19.
We are working with businesses large and small, public and private, in multiple industries and across the world. While helping them with their most important issues, we have also been "flies on the wall" as we observed many CEOs and leadership teams come to terms with COVID-19 and make the hard decisions necessary to navigate through the crisis.
As the crisis has unfolded, we coordinated video calls to share our experiences. We discussed a wide range of topics, including making complex and difficult trade-offs, purpose, effective leadership, customer relationships, planning, innovation, human resources, motivating teams, resilience, collaboration, employee and leadership well-being, and preparing for coming out of lockdown.
These video calls resulted in amazing discussions which often stretched late into the night. Our calls were a source of support and we regularly published key points from our discussions on the internet to share with others.
This book is a compilation of the key points of these discussions.
Publication date:
Thursday 17 December 2020
Buy online from