Identity, Neoliberalism and Aspiration: Educating white working-class boys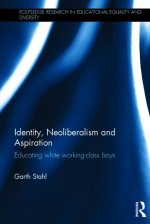 Author: Garth Stahl
Publisher: Routledge
In recent years there has been growing concern over the pervasive disparities in academic achievement that are highly influenced by ethnicity, class and gender. Specifically, within the neoliberal policy rhetoric, there has been concern over underachievement of working-class young males, specifically white working-class boys. The historic persistence of this pattern, and the ominous implication of these trends on the long-term life chances of white working-class boys, has led to a growing chorus that something must be done to intervene.
This book provides an in-depth sociological study exploring the subjectivities within the neoliberal ideology of the school environment, in order to expand our understanding of white working-class disengagement with education. The chapters discuss how white working-class boys in three educational sites enact social and learner identities, focusing on the practices of 'meaning-making' and 'identity work' that the boys experienced, and the disjunctures and commonalities between them. The book presents an analysis of the varying tensions influencing the identity of each boy and the consequences of these pressures on their engagement with education.
Drawing on Bourdieu's theoretical tools and a model of egalitarian habitus, Identity, Neoliberalism and Aspiration: Educating white working-class boys will be of interest to academics, researchers and postgraduate students in the field of sociology of education, and those from related disciplines studying class and gender.
Buy online from