Doing Capitalism in the Innovation Economy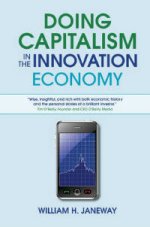 Author: Dr William H Janeway Hon CBE (Pembroke 1965)
Publisher: Cambridge University Press
The innovation economy begins with discovery and culminates in speculation. Over some 250 years, economic growth has been driven by successive processes of trial and error: upstream exercises in research and invention and downstream experiments in exploiting the new economic space opened by innovation.
Drawing on his professional experiences, William H. Janeway provides an accessible pathway for readers to appreciate the dynamics of the innovation economy. He combines personal reflections from a career spanning forty years in venture capital, with the development of an original theory of the role of asset bubbles in financing technological innovation and of the role of the state in playing an enabling role in the innovation process.
Today, with the state frozen as an economic actor and access to the public equity markets only open to a minority, the innovation economy is stalled; learning the lessons from this book will contribute to its renewal.
Buy online from