Cambridge University Women's Boat Club 1941-2014; the Struggle against Inequality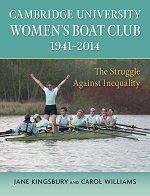 Author: Jane Kingsbury (Murray Edwards, New Hall 1969) and Dr Carol Williams (Darwin 1969)
Publisher: Trireme
In the early 1970s, Jane Kingsbury and Carol Williams rowed for Cambridge University Women's Boat Club (CUWBC). Now they have chronicled the development of the club through its struggle to gain recognition in women's varsity rowing to the point where it has provided the nation with a remarkable number of international and Olympic oarswomen and will finally compete against Oxford on the Thames in London just as the men of Cambridge University Boat Club (CUBC) do.
Since it was founded in 1941 CUWBC has been the 'Cinderella' of the Cam, not even having a boathouse of its own, unlike CUBC, which has had the Goldie Boat House and a well-equipped boathouse at Ely. The low status of the women's boat races, combined with the fact that oarswomen at Cambridge and Oxford at one time or another were either banned, or nearly banned, from the river means that many people are still unaware of the existence of this competition between the women of the two universities. These races have, in fact, taken place (intermittently at first) since 1941, initially on the Cam or the Isis and then, since the 1970s, mainly at Henley on Thames. Set against this at times challenging background, however, is testimony from many of the women who rowed for the club and greatly enjoyed, and benefitted from, the experience.
The book details the ups and downs of CUWBC during its 74 years, from the position of the club having one crew of oarswomen from just Newnham and Girton Colleges to represent the University against Oxford to this year, when the women's Blue Boats and their reserve crews will move to the Tideway to row their 2015 Boat Race for the first time in London on an equal footing with the men's crews.
Attend the launch event on Tuesday, 7 April at Heffers bookshop to get your hands on a copy (£20) - book tickets online via Eventbrite
Read more about women's rowing, featuring Jane Kingsbury, in CAM 74 (from p12)
Buy online from