Art as an Investment?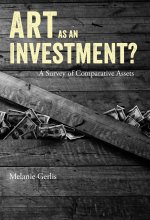 Author: Melanie Gerlis (Clare 1993)
Publisher: Lund Humphries
For such a relatively small and opaque industry, the art world is imbued with glamour and sophistication and attracts a lot of wealth. In recent years much attention has been given to art's appeal as an investment, not least because the growth and influence of global investment banking and wealth-management industries from the 1980s encouraged a more financially sophisticated approach to asset allocation.  When the wider economic markets began to unravel in 2008, art dealers and other art-market practitioners maintained that art wasn't subject to the same volatility as other investments.  
Melanie Gerlis - Art Market editor of The Art Newspaper - presents the case that far from art being nothing but a financial asset, art can be anything but a financial asset.
Aimed at collectors and investors, this user-friendly guide explains art's value as an asset through comparisons with more familiar investments, including property, shares and gold. It draws on extensive research and interviews with key players in these other markets, as well as the author's own experience, to clarify the specifics of art as an asset class.This timely book considers the growing importance attributed to art as an investment, testing the validity of claims about art's capacity to generate returns that outweigh its risks. It offers jargon-free explanations of how the characteristics of blue-chip art can be seen to coincide with and diverge from the fundamental features of more established types of asset.
Key issues addressed include the role of subjectivity in the perception of value; the failure of attempts to establish stock markets for art; the risks and shortcomings of art funds; banks' reluctance to lend against art; and the art world's distaste for selling and speculation.This thorough but accessible text from a respected art market professional is essential reading for art investors and prospective art investors.
Buy online from