Zara Fleming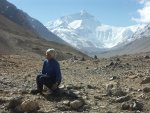 Zara is an independent art consultant, lecturer and exhibition curator with specialist knowledge of Buddhist art; focusing on the art and culture of Tibet and the Himalayas. Initially based at the Victoria & Albert Museum, with general responsibility for the Tibetan and Nepalese collections (1974-81).  She was then affiliated with the Central Asian Department at Bonn University cataloguing the Tibetan, Bhutanese and Mongolian collections of all UK Museums, part of a larger cataloguing project throughout Europe (1981-88) and was the Assistant Projects Director in Europe for the Orient Foundation (1984/5).
Zara has curated many exhibitions including "Tibet – Roof of the World" at the October Gallery, London (1991); "Man and Environment in Harmony" at Millbank, London (1992); "In the Steppes of Genghis Khan" at the October Gallery (1993); "Radiant Transmission – Contemporary Masterpieces of Tibetan Buddhist Art"  held at the October Gallery and the Museum of East Asian Art in Bath (2003), "Asia – Body, Mind, Spirit"  for the Wellcome Collection and Asia House, London (2004) and "The Tiger in Asian Art"  for Asia House, London (2010/11). And prepared the educational material for the "Sacred Art of Tibet – Wisdom and Compassion" at the Royal Academy in London (1992).
Art consultant and Curatorial Advisor for the Worlds Culture Gallery (Buddhism), the National Museums and Galleries on Merseyside (2001-4); Art consultant and British Advisor for the Centre for Cultural Heritage in Ulaan Baatar, Mongolia (on a catalogue of Mongolian Buddhist art) and Art Consultant for the Orient Foundation (Classical Tibetan Arts website.)  She co-edited "Masterpieces of Mongolian Art; Vol 1" (published in 2011) and has contributed articles for art and travel publications, and journals specialising in Buddhist art and culture.
Lecturing experience includes the Arts Society (formerly NADFAS), the School of African and Oriental Studies, the V & A, Merseyside County Museums, the Oriental Museum in Durham, the Royal Academy, the Brunei Gallery, Asia House and to schools, universities and various study groups. She has also lectured in Europe, Australia and New Zealand.  
Zara has been travelling in Asia since 1973 and has been the tour guide and guest lecturer on numerous trips to Bhutan, Ladakh, Zanskar, Spiti, Nepal, Mustang, Burma, Tibet; and led the first British tour to Tibet in 1981. These tours include several very successful alumni visits.
Website: http://www.zarafleminguk.com/