Professor Stephen Harris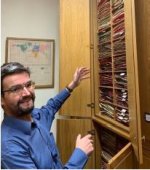 Stephen is a lecturer at Christ Church and University Research Lecturer, contributing to courses in plant conservation biology, plant biodiversity and field biology. His research is concerned with our interactions with plants; how we modify plant evolution. Stephen has considerable fieldwork experience, particularly in Brazil. He also has long-standing interests in the history of botany and collections and plant identification. Besides his academic publications, Stephen has co-authored one genetics textbook and written three popular books on botanical history and plant illustration: The Magnificent Flora Graeca (2007), Commentary on Thornton's Temple of Flora (2008) and Planting Paradis, Plants in cultivation (1501–1900) (2011). Stephen's popular science publication, Grasses (2014), reveals the science and cultural history of this overlooked group of plants.
Stephen's wife is Carolyn Proença, Professor of Botany at the University of Brasilia and Curator of the University's herbarium. She will accompany the group.
Positions:
Druce Curator, Oxford University Herbaria