Professor Nick Davies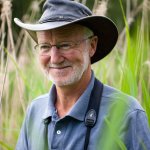 Nick Davies is Professor of Behavioural Ecology in the Department of Zoology at the University of Cambridge and a Fellow of Pembroke College. He is a Fellow of the Royal Society.
Nick is a field naturalist with a particular interest in bird behaviour. His research on the evolutionary battle between cuckoos and their hosts was featured as a BBC film, narrated by David Attenborough. He has also been a recent guest on BBC Radio 4 in the programmes "The Life Scientific" and "Private Passions". His latest book "Cuckoo - cheating by Nature" is published by Bloomsbury.
He has led previous Alumni trips to the Galapagos, Madagascar and Costa Rica.
'Meet the scholars' interview
Where did your interest in Behavioural Ecology begin?
As a passion for natural history, especially bird watching, ever since I was a young boy. Then I learnt about evolution, so my watching led to wondering about why animals have evolved to behave the way they do and why species differ. This mix of watching and wondering makes natural history all the more inspiring and marvellous.
What is the current focus of your research?
I study the evolutionary battle between cuckoos and their hosts, part of what Darwin imagined as an "entangled bank" of interactions in the natural world. Our field studies in the fens near Cambridge have revealed that cuckoos need remarkable trickery to beat host defences, including secretive laying, forgeries of host-egg signatures and manipulative begging calls by the cuckoo chicks. Cuckoos are becoming scarcer now, so we also have the opportunity to study how hosts respond to a changing world.
What makes Peru an exciting place to visit right now?
The biodiversity of the Neotropics is amazing; in this trip we'll travel from the Pacific Ocean, with Humboldt penguins, up to the cloud forest of the Andes, with condors, cock of the rock and spectacular hummingbirds, and then down to the rainforest of the Amazon, with monkeys, macaws and giant river otters. This diversity in landscape and wildlife, together with the cultural highlights of Machu Picchu and Cusco, makes for an extraordinary trip.
What do you enjoy about sharing your research?
I've been lucky to accompany ten previous alumni trips (Ecuador and the Galapagos, Madagascar, Costa Rica) and have loved them all. We have fantastic, knowledgeable local guides and then in the evening talks I try to give a broader evolutionary picture of what we have seen during the day. It's always a challenge to give talks to such a bright group and with such varied interests – we all learn from one another!
Do you have a dream trip scholarship destination, other than Peru?
Lots! Tigers in India, Birds of Paradise in New Guinea, Snow leopards in Nepal, swimming with whale sharks – always dreaming!
Which trip would you like to take from Unbound?
All of them! If I had to choose just one, then it would be the walk to Mustang through the wilderness of the Himalayas.
This interview is taken from the 16th edition of 'Unbound'  (summer 2019)
Positions:
Professor of Behavioural Ecology, Department of Zoology