Dr Nicholas James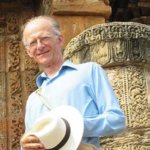 Director of Studies in Social Anthropology at Magdalene College, Cambridge
Panel Tutor at the Institute of Continuing Education, University of Cambridge
Meet the scholars interview featured in Unbound 11 (autumn 2016)
What is it about taking alumni to this area and to explore this civilisation that excites you most?
The story of the Maya is a distinctive chapter of our world history. The Maya were once dubbed 'the ancient Greeks of the New World'. The last 80 or 90 years of archaeological, historical and anthropological studies have produced answers to questions we have been pondering for centuries. Research on the Maya has contributed much to how we assess the world around us.
What do you think a trip scholar most adds to a trip?
For my own part, I get a great sense of companionship from the trips. It'swonderful to travel with a group of people with a thirst for knowledge and a great capacity for understanding. I hope I contribute a tailored narrative that challenges people and helps them to really get to grips with the Maya and their fascinating civilisation.
What do you think the alumni on the trip get out of your involvement?
It's a stimulating seminar on wheels helping them to make sense of the Maya, both ancient and modern. My own part is to prime the party with the state of the art in issues and research.
And what's the best thing for you about going on the trips?
As a specialist there is a danger of losing perspective as you study the same area in great detail with fellow academics. Discussing issues afresh with new minds helps me develop new perspectives and ideas. It's a great opportunity to develop my ideas and research with new people.
How do you feel the alumni travel programme, and trips like yours, reconnects alumni to Cambridge and academic content?
The alumni travel programme allows alumni to appraise historical and contemporary evidence. Thinking about it together critically is what Cambridge is about. The implications for basic assumptions and outlook, social integration and sustainable economies extend to our own worlds.
What would you say to an alum who is thinking about going on an alumni travel programme trip – but hasn't quite decided? What do our alumni get from travelling with us?
I would tell them that the whole is greater than the sum of parts. This is an interesting trip with lively like-minded graduates who are so keen to get involved. On the trip we explore together, challenge one another and debate ideas with each other.
Do you have a dream trip scholar destination (other than your own)?
No. I don't dream I just do.
More about Dr James
Dr Nicholas James has conducted research on the archaeology of the indigenous peoples of Latin America for more than 35 years and is author of the book Aztecs and Maya (The History Press, 2009). His current research interests are on three topics: urban cultural heritage management in India; urban and rural social organisation among the Aztecs 500 years ago; and rural conditions north of Cambridge 250 years ago.
In addition, he is a consultant for the management and interpretation of historical resources.
Courses taught at the Institute of Continuing Education
History of archaeology I. From the Bible to the Bomb
History of archaeology II. Archaeologists and the world since 1950
History of archaeology III. The rise of civilisation
History of archaeology IV. Rome and China
History of archaeology V. The Ancient Aztecs and Maya
How ritual made the city
Inca and Aztec
Rome and China
Undergraduate Certificate in Historic Environment III: Sources and Methods
Publications
N James. Aztecs and Maya. History Press, 2009 (3rd ed.).
N James, D Palmer and G Sparrow. Fortune and glory: tales of history's greatest archaeological adventurers. David & Charles 2008 (trans. Portuguese and Slovak 2009).
N James. Aztecs & Maya. Tempus, 2001.
N James. ''Natural symbols' Hindu and Aztec.' Edited D Desai and A Banerji Kaladarpana, Aryan International, 2009.
N James. 'The making of the Bedford Level: archives and archaeology'. Edited S Oosthuizen & F Willmoth in Drowned and drained: exploring fenland records and landscape. University of Cambridge Institute of Continuing Education, 2009.
N James. 'Monument management and urbanization: a case study of Bhubaneswar'. Edited A Banerji Hari smriti Kaveri 2006, plus other articles, shorter contributions and reviews since 2000.
N James. 'Ground conditions, 1550-1950'. Edited C Evans & I Hodder, The Haddenham Project, McDonald Institute, 2006.
Journals
N James. 'People's finds: context and control'. Antiquity, 85, 2011.
N James. 'Great Men', Antiquity, 84, 2010.
'Are Catalans ignoring archaeology?, The Acropolis and its new museum'. Antiquity, 83, 2009.
N James. ''The 'Age of the Windmill' in the Haddenham Level'. Proceedings of the Cambridge Antiquarian Society, 98, 2009.
N James. 'Can guided tours make sense of world heritage?'. Edited G J R Mevissen and A Banerji Prajñdhara Kaveri, 2009.
N James. 'Repatriation, display and interpretation, Can a museum explain imperialism?' Antiquity, 82, 2008.
N James. 'Local attitudes to the landscape's history'. Edited C Evans, Excavations at Coveney, East Anglian Archaeology, 2003.
Positions:
Director of Studies in Social Anthropology, Magdalene College, Cambridge
Affiliated Scholar in Archaeology, University of Cambridge
Panel Tutor at the Institute of Continuing Education, University of Cambridge