An exceptional gift to celebrate 150 years of Girton College
Girton's Mistress, Professor Susan J Smith, was delighted to announce, with great gratitude, that the College has received one of the largest gifts in A Great Campaign
Over 1000 Girton College alumni, Fellows, guests and students came together to mark 150 years of excellence and inclusion at the Girton150 Festival to celebrate the founding of a pioneering college.
Girton's Mistress, Professor Susan J Smith, was delighted to announce, with great gratitude, that the College has received one of the largest gifts in A Great Campaign.
Colin Tyler (Emmanuel 1952) has donated a seven-figure gift in memory of his wife Margaret Tyler (née Hughes), who read Geography at Girton from 1953 to 1956. The gift will endow an early-career Research Fellowship in Geography that will help recipients establish a world-class research profile and gain significant teaching experience to form an all-important first step in their academic career. The post will be known as the Margaret Tyler Research Fellowship in Geography.
Girton is enormously grateful to Colin for this generous gift. The College has a rich tradition of supporting early career scholars through its Research Fellowship and post-doctoral engagement schemes. As a Geographer, I am especially thrilled to see Girton's longstanding commitment to, and excellence in, that subject underpinned in this way.
It is fitting that the first Girton Geography Research Fellowship can be announced in 2019, when not only does the College celebrate the 150th anniversary of its Foundation but the Geography Department, to which this award is linked, celebrates the Centenary of the Geography Tripos. That said, not only did Girton's entrance exam include a compulsory Geography question from the very beginning and well into the 1890s, but a diploma was offered in the early 20th century. By the time the Tripos was established Girton was ready to build Geography into one of its largest subjects. So this really is a very special gift.
Professor Susan J. Smith
Margaret greatly enjoyed her time at Girton and Cambridge. She once commented that 'Being an only child I enjoyed the company of so many intelligent youngsters in my age group who came from all over Britain and abroad.' It was during her undergraduate years that Margaret met Colin, who read Law at Emmanuel College. After graduation, Margaret went on to teach Geography in Nottingham, Walsall and Solihull.
Her family describe her as a vivacious person who enjoyed travelling, painting and the outdoor life. Margaret's passion for Geography was present on every family trip and her sons, David and Richard, recall fondly her efforts to teach them about the world around them.
Mum thoroughly enjoyed her three years studying Geography at Cambridge in the decade after the war as better opportunities opened up for women. She was always interested in geology, geographical features of the landscape, plants and the outdoor life. In her final year, she specialised in Geomorphology. Jean Grove was her Director of Studies and supervised her Regional Essay on Ludlow. Dad and the family feel that it is very fitting that he has been able to set up this endowment in Girton's 150th year. Richard and I are very proud of our parents' achievement considering they both came from such humble, working-class backgrounds.
David Tyler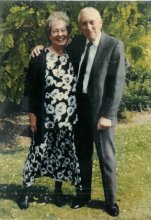 This exceptional gift will be a significant boost to the Girton's ability to attract and support Geography students and underwrite career development in Geographical research and teaching.
Launched in 2012, A Great Campaign aims to grow Girton's endowment to secure a sustainable financial future for the College.
To find out more about how you can support Girton College, please contact: