Surrey - Autumn Meeting Plus AGM
Surrey - Autumn Meeting Plus AGM
Thursday 5 October 2023, 1.30pm BST
Thursday 5 October 2023, 1.30pm BST
We are pleased to announce details of our next meeting and AGM on Thursday, 5th October with Sir Ken Olisa at Tyrrells Wood Golf Club which will include a two course lunch and our AGM afterwards.
Sir Ken is is a British businessman and philanthropist and is the Lord-Lieutenant of Greater London. He will be talking to us on "Our Constitution - some post-Coronation reflections".
Please see attached details for the lunch and a booking form as well as the agenda for the AGM. The forms can be found at the end of this event listing
Please do join us for what promises to be a lively talk and a lovely lunch.
We suggest you book early to avoid disappointment.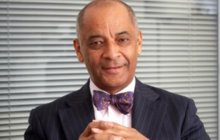 The Society's Autumn Meeting 2023 will feature a talk by Sir Kenneth Aphunezi Olisa on: "Our Constitution - some post-Coronation reflections" Sir Kenneth Olisa OBE, CStJ, FRSA, FBCS, FloD is a businessman and philanthropist. He has served on major company Boards (Reuters, ENRC and Open Text), regulators (PostComm and IPSA) and many private technology businesses.
A strong advocate of social mobility, he is President of Thames Reach, a charity working to shelter and resettle the homeless; former Chair of the Shaw Trust, supporting the disabled and chronically unemployed to find work; founding Chair of the Aleto  Foundation, supporting future leaders from tough reality backgrounds; a former Governor of the Peabody Trust; and a former Non-Executive Director of the West Lambeth NHS Trust.  He is President of London Youth, a member network of 450+ youth clubs supporting tens of thousands of young Londoners each year, and a trustee of the Prince of Wales's Charity Fund.  He chairs BusinessLDN (formerly London First) and is High Bailiff and Searcher of the Sanctuary at Westminster Abbey.
   
Awarded an OBE in 2010 for services to London's homeless, he is the first person of mixed heritage to hold the office of Lord-Lieutenant of Greater London, to which he was appointed in 2015. He was knighted in 2018 for services to business and philanthropy.  
Born in Nottingham in 1951, he was educated at High Pavement, a revered 18th century grammar school then undergoing conversion to a comprehensive, and Fitzwilliam College, Cambridge (1971) where he read Natural, Social & Political and Management Sciences and to which, in 2011 he and his wife, Julia (Homerton 1971, Newnham 1975), donated £2m to endow the Olisa Library.
 
Booking information
Fully inclusive tickets are £40 each including a two course lunch.
As numbers are limited to 80, and as the event is expected to be popular, early booking is recommended.
Please e-mail or send your application to the Treasurer, Tim Sketchley, using the attached form.
Booking Deadline: Monday 18 September 2023

Location
Tyrrells Wood Golf Club,
Leatherhead
Surrey
KT22 8QP
United Kingdom