Paris - Cambridge Society of Paris Annual Dinner
Paris - Cambridge Society of Paris Annual Dinner
Wednesday 11 October 2023,

7.30pm

to

11.30pm

CEST
Wednesday 11 October 2023,

7.30pm

to

11.30pm

CEST
The Cambridge Society of Paris is delighted to invite you and your guests to one of the landmark events of the CamSoc year, the Society's Annual Dinner with Tim, Lord Clement-Jones, CBE.
19h30 to 23h30 on Wednesday 11th October 2023 at La Maison des Polytechniciens, 12 Rue de Poitiers, 75007 Paris.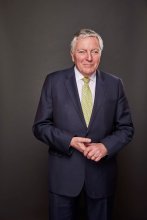 Our Guest Speaker, Tim, Lord Clement-Jones (Trinity College) was born in Neath in South Wales.  He was educated at Haileybury and then went on to study economics and then law at Trinity College, Cambridge, the fourth generation of his family to do so.
He was chair of the Liberal Party from 1986-88 and made CBE for political services in 1988 and a life peer in 1998. 
He started his legal career as a trainee in Coward Chance, the magic circle city law firm as it then was. He became Group Company Secretary and Legal Adviser of Kingfisher Plc from 1986-95, where he coordinated Kingfisher's contribution to the Shopping Hours Reform Campaign which led to the Sunday Trading Act 1993.  Before Kingfisher, he held senior legal positions at Grand Metropolitan, now Diageo plc and London Weekend Television, now part of ITV plc.
He is the Liberal Democrat House of Lords spokesperson for Science, Innovation and Technology and previous positions held including Lords spokesperson for Digital and for the Creative Industries.  He is the Former Chair of the House of Lords Select Committee on Artificial Intelligence which reported in 2018 with "AI in the UK: Ready Willing and Able?" and its follow-up report in 2020 "AI in the UK: No Room for Complacency".  In 2016, he co-founded the All-Party Parliamentary Group on Artificial Intelligence which he co-chairs.
From 2023, he has been a member of the Industry and Regulators Committee and the initiator of and subsequent member of the Special Inquiry Select Committee into AI in Weapons Systems. 
He is a former member of the Joint Select Committee on the Draft Online Safety Bill (2021-22) and Vice Chair for a number of All-Party Parliamentary Groups - including Data Poverty; Data Analytics; Digital Skills; and Digital Regulation and Responsibility.
He is a founding member of the OECD Global Parliamentary Group on AI and a former Consultant to the Council of Europe's Ad-hoc Committee on AI.
He is Chair of the Board of Trust Alliance Group (formerly Ombudsman Services), the not-for-profit, independent ombudsman service that provides dispute resolution for the communications, energy, and parking industries.  He is a Consultant on AI Policy and Regulation with global law firm, DLA Piper where former positions held include London Managing Partner (2011-16), and Co-Chair of Global Government Relations. 
He is Chair of the governing council of Queen Mary University of London.  He was Chair of Council of the School of Pharmacy, University of London (2008-12) before its merger with University College London ("UCL") whereupon he became an external member of UCL's Council and Chair of the Audit Committee (2012-17).
He is President of Ambitious about Autism (formerly Treehouse) an autism education skills and employment charity and school for children with autism and other communication disorders.
Booking information
Ticket Application

The Cambridge Society of Paris is delighted to invite you and your guests to one of the landmark events of the CamSoc year.
Cambridge alumni who are not members of the Paris Society are welcome to join us for our Annual Dinner with their guest(s). The price for aperitif, dinner and drinks is €85 per person. Discounted prices are available for members of the Paris Society.
To apply for tickets:
Go to the Society's website, events page, and book your tickets or click the Book Online button in this listing.
Or please complete the attached Registration Form and return it by post or email to the Treasurer, Tony Banton. Please note that if you opt for this method of registration, you will not be able to pay by credit card.
You can also contact Tony Banton if you have any questions relating to the Dinner.
Dress: Black tie (or lounge suits if preferred).
Please note that refunds will only be possible for cancellations received by Friday 29th September 2023

Location
Maison de Polytechniciens
75007
Paris
France
Location information:
About the Venue:
The mansion was built in 1703. The house has accommodated several political and artistic organizations over the centuries. Successive occupants have left their mark with the installation of elegant fireplaces and balconies. The name "Poulpry" comes from one of its owners in the late eighteenth century.
The house is now the base of the Association des Amis des Polytechniciens and is also made available to other groups for their events.