Crete – the 'big island': 9,000+ Years of History
Crete – the 'big island': 9,000+ Years of History
Tuesday 29 March 2022,

7.00pm

to

8.00pm

BST
Tuesday 29 March 2022,

7.00pm

to

8.00pm

BST
Crete is a remarkable island! 260km west to east, 60km north to south at its broadest point and only 12km at its narrowest, it is the largest Greek island and is often called simply 'the big island', το μεγάλο νησί. It can also boast over 9,000 years of human history, to which various adjectives have been attached: Minoan, Greek, Roman, Byzantine, Arab, Venetian, Ottoman. Part of the Greek state only since 1913, it was home to the earliest attested written form of the Greek language, in the Linear B script, one of at least five writing systems used on the island to record an even larger number of languages.
In this illustrated talk, Professor John Bennet (Sidney Sussex 1976) will attempt to bring some order to this dizzying complexity and offer an outline 'history' of the island, with an emphasis on the outstanding remains from the Bronze Age, where his specialism lies. Certain watershed moments stand out: c. 7,000 BC (the first documented permanent human settlement, but not the first evidence of humans on the island), c. 2,000 BC (the construction of the first distinctive structures known as 'palaces'), c. 1,600 BC (eruption of Thera/Santorini), 69 BC (Roman conquest), AD 827/8 (Arab conquest), AD 961 (Byzantine reconquest), AD 1204 (4th Crusade and Venetian conquest), AD 1669 (Ottoman conquest), AD 1913 (incorporation in the Greek state).
Within this historical framework, Professor Bennet will emphasise some key themes in Crete's history: the sea as isolator and connector; diversity and unity; continuity vs. discontinuity; the balance between East and West; ultimately what has often been called Crete's 'exceptionalism'.
Schedule
7.00pm - Welcome from the Cambridge and Oxford Alumni Offices and Alice Burns, Temple World
7.05pm - Talk from Professor John Bennet
7.45pm - Q&A with Professor Bennet, facilitated by Alice Burns
8.00pm - Finish
This talk is part of the Oxford and Cambridge Universities Alumni Travel Programme and is organised by Temple World who will be arranging the alumni tour to Crete with Professor John Bennet.
This event will be recorded.
Speakers
Professor John Bennet (Sidney Sussex 1976)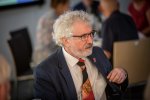 John Bennet was born in Singapore and grew up in the UK, in Yorkshire. He read Classics at Cambridge, where he also completed his PhD on the administrative organization of Late Minoan II–IIIB Crete based on archaeological and textual (Linear B) evidence and held a Junior Research Fellowship.
From 1986 to 1998 he taught in the Department of Classics at the University of Wisconsin–Madison before taking up the Sinclair & Rachel Hood Lecturership in Aegean Prehistory at Oxford.
In 2004 he was appointed to his current chair at the University of Sheffield, where he also directs the Sheffield Centre for Aegean Archaeology.
Since 1 October 2015, John has been based in Greece as Director of the British School at Athens.