Cambridge Conversations: Entrepreneurship – Profit or Purpose?
Cambridge Conversations: Entrepreneurship – Profit or Purpose?
Wednesday 26 April 2023,

7.00pm

to

8.00pm

BST
Wednesday 26 April 2023,

7.00pm

to

8.00pm

BST
Origianl image by Milad Fakurian
Origianl image by Milad Fakurian
Creators and risk takers entrepreneurs are often seen as the heroes of economic growth, driving new ideas and reaping the rewards of their work. But there is a growing sector of entrepreneurs who are not focused on profit. Passionate people building businesses with the sole purpose of making a difference to society. But how does this fit into the wider context of entrepreneurship and innovation? Is the divide unsurmountable? Or is it possible to make a profit and still do good in the world?
Join our panel of Cambridge academics and alumni to debate the role of entrepreneurship in all its forms and hear more about how the University is supporting innovation and enterprise at Cambridge.
This webinar is now available to watch on our YouTube channel.
Speakers
Dr Anthony Freeling (St John's 1975)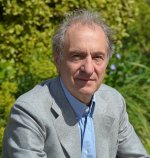 Dr Anthony Freeling became Acting Vice-Chancellor of the University of Cambridge on 1 October 2022. Dr Freeling studied at St John's College, Cambridge, between 1975 and 1984, completing an MA in Mathematics, an MPhil in Control Engineering and Operation Research, and a PhD in Decision Analysis and Behavioural Economics.    
He was President of Hughes Hall from 2014 to July 2022, having initially become involved with the College as a Fellow and Trustee in 2008. As a member of the University Council and Chair of the Colleges Committee, he has extensive experience of the operation of the Collegiate University.     
Prior to resuming his long relationship with Cambridge, Dr Freeling spent 18 years with McKinsey & Company, where he was a senior partner, leading its marketing and sales practice across Europe. He has also worked as an independent consultant advising a broad range of companies in areas as diverse as law and global marketing. He was a director of Ashridge Strategic Management Centre, and research director of the Coca-Cola Retailing Research Councils for Europe and Asia. He was formerly on the Council of the Open University and on the Board of UnLtd, the Foundation for Social Entrepreneurs.   
Professor Andy Neely OBE, FREng, FAcSS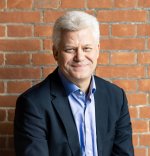 Professor Andy Neely, OBE, is Senior Pro-Vice-Chancellor and Professor of Manufacturing at the University of Cambridge and a Fellow of Sidney Sussex College. His previous appointments include Head of the Institute for Manufacturing at the University of Cambridge, the Royal Academy of Engineering Professor of Complex Services at the University of Cambridge, the Deputy Director of the Advanced Institute of Management Research, a UK national research programme and the Director of the Centre for Business Performance at Cranfield University. 
During his career, Andy has founded several major research centres and groups, including the Cambridge Service Alliance and the Centre for Digital Built Britain, both at the University of Cambridge and the Centre for Business Performance at Cranfield University. He is co-founder of Anmut, the data valuation specialists, a Non-Executive Director at the High Value Manufacturing Catapult and a member of the Board of Trustees of the American University of Sharjah. 
He has written over 100 books and articles, including "Measuring Business Performance", published by the Economist and "The Performance Prism", published by the Financial Times. In 2020 he was awarded an OBE for services to research and university-industry collaboration. 
Professor Paul Tracey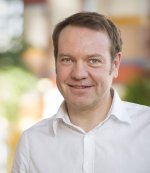 Paul is Professor of Innovation and Organization at the Cambridge Judge Business School and a Fellow of Hughes Hall. His work focuses on how entrepreneurs and established organizations create value of different kinds. In 2014, he co-founded the Centre for Social Innovation and is currently Co-Director. The Centre creates new knowledge about social innovation and social change, offers a Masters degree in Social Innovation, and supports social entrepreneurs through its social enterprise incubator (Cambridge Social Ventures). He has published widely on many aspects of innovation, including papers in the Academy of Management Journal, Academy of Management Review, and Organization Science. 
Katharine Hibbert (Clare 2000)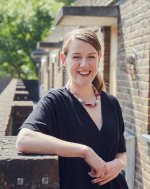 Katharine Hibbert is the Founder and Executive Chair of Dot Dot Dot, a social enterprise which turns empty buildings into homes for people who want to volunteer, benefitting property owners, residents and local communities.  Dot Dot Dot was launched in 2011, and since then has housed thousands of people across the UK for less than 66% of local market rents, while supporting residents to give time worth some £5m to good causes.
Katharine came up with the idea for Dot Dot Dot while researching Britain's wasted housing for her first book, FREE: Adventures on the Margins of a Wasteful Society (Ebury Press, 2010), which told the story of the squatters and scavengers who live on next to nothing in towns and cities across the UK and Europe.
Alongside her work at Dot Dot Dot, Katharine is Chair of Co-Op Homes, a housing association which provides governance and housing management services to dozens of housing co-ops as well as managing its own permanent stock.
She studied Philosophy at Clare College between 2000 and 2003, and completed an Executive MBA at Judge Business School in 2022.
Booking information
Please follow the link to register for this webinar.
Booking for this event is now closed.