Cambridge Conversations: A worldwide economic web: interdependence and recovery in a post-COVID world
Cambridge Conversations: A worldwide economic web: interdependence and recovery in a post-COVID world
Wednesday 29 July 2020,

6.00pm

to

6.50pm

BST
Wednesday 29 July 2020,

6.00pm

to

6.50pm

BST
Cambridge Conversations webinars allow you to listen, connect and engage with current Cambridge thinking, wherever you are.
The rapid spread of a new and life-threatening virus has laid bare our interconnection as societies, and the interdependence of every aspect of the global economy. As countries plunge into recession and unemployment soars, how can we salvage what remains and reshape economic structures for a secure future? Vice-Chancellor Professor Stephen J Toope will present a compelling Cambridge Conversation with Professor Diane Coyle of the Bennett Institute for Public Policy, and Dr Mohamed El-Erian, President-Elect of Queens' College and one of the world's foremost financial experts. Join us to discuss the current economic crisis and its long-term ramifications for the world.
Speakers
Professor Stephen J Toope (Trinity 1983)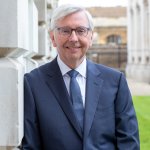 Professor Stephen J Toope OC, LL.D. is 346th Vice-Chancellor of the University of Cambridge, the first non-UK national to hold the post. He was Director of the Munk School of Global Affairs at the University of Toronto, and President, the University of British Columbia. A former Dean of Law, McGill University, Toope was also Chair of the United Nations Working Group on Enforced and Involuntary Disappearances.
Professor Toope publishes in global journals on human rights, international dispute resolution, international environmental law, the use of force, and international legal theory, and has lectured at universities around the world.
His current book project with Professor Jutta Brunnée explores mechanisms and processes fostering stability and change in international law.
Dr Mohamed A. El-Erian (Queens' 1977)
Mohamed A. El-Erian has worked on economic and financial issues in both the public and private sectors. He is the Chief Economic Advisor at Allianz, the corporate parent of PIMCO where he formerly served as Chief Executive and Co-chief Investment Officer and is a Professor of Practice at the Wharton School. He also serves as senior advisor to Gramercy, a columnist for Bloomberg View, a contributing editor at the Financial Times, and a member of the boards of Barclays and UnderArmour, as well as several non-profits. Elected in May 2019, he is scheduled to succeed Lord Eatwell as President of Queens' College Cambridge in October 2020. He holds a master's degree and doctorate in economics from Oxford University and received his undergraduate degree in Economics from Cambridge University.
Professor Diane Coyle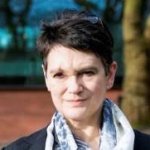 Professor Diane Coyle is the inaugural Bennett Professor of Public Policy, and co-directs the Bennett Institute of Public Policy with Professor Michael Kenny. She leads research in the fields of public policy economics, technology, industrial strategy and global inequality. Diane was previously Professor of Economics at the University of Manchester and has held a number of public service roles including Vice Chair of the BBC Trust, member of the Competition Commission, and member of the Migration Advisory Committee. She is currently a Fellow of the Office for National Statistics, an expert adviser to the National Infrastructure Commission and Senior Independent Member of the ESRC Council. She was awarded a CBE for her contribution to the public understanding of economics in the 2018 New Year Honours.
Booking information
There is no booking fee to attend this event
Event timings
6pm Webinar begins
Speaker presentations
Q&A facilitated by the Vice-Chancellor
6.50pm Event close
Booking will close on Wednesday 29 July
Booking for this event is now closed.