Translation and its Regulation in Cancer Biology and Medicine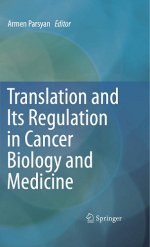 Author: Armen Parsyan (Clare Hall 2003), editor
Publisher: Springer
This book, for the first time, comprehensively assembles and analyzes a large body of information on the role of the fundamental mechanism of the protein biosynthesis pathway, translation, in cancer biology. It systematically explores the function of the translation machinery and its regulation, including cell signaling, in the development, maintenance and progression of human cancer.
The work presented here unveils the tremendous potential and applications of this vast and exciting branch of genetic, biochemical and molecular science in cancer medicine and drug development. Chapters contributed by experts in the field take the reader on a journey that starts with a dissection of the translation machinery and its regulation in norm and cancer. Later chapters characterize etiological and pathogenetic roles that translation plays in specific cancer types. Various aspects of diagnostic, prognostic and therapeutic significance of the translation machinery and its control in cancer are discussed.
Readers will discover the importance of the process of translation and its regulatory mechanisms in physiology and cancer biology. The chapters and the numerous illustrations included here were contributed by expert scientists and clinicians from renowned academic and clinical establishments in Canada, the United States of America, the United Kingdom, Italy, France, Belgium, Spain, Germany and Australia. The book conveys information and knowledge that may interest a broad range of students and scholars ranging from basic scientists to clinicians and drug developers seeking to better understand the protein synthesis and its aberrations in cancer biology and cancer medicine.
Buy online from