The Woman Before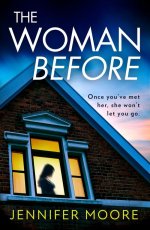 Author: Jennifer Moore (Selwyn 1994)
Publisher: HQ, Harper Collins
A perfect home… A destructive obsession… A fatal secret… When Fern and Paul move into the large, old house on Crenellation Lane, with beautiful high ceilings and a luscious garden, they think they've found their dream home. After the devastating loss of Fern's twin sister, it will be a fresh start and somewhere to raise their first baby. But as soon as they arrive, Fern starts having terrifying nightmares about the woman who lived there before. When the woman showed Fern around, they bonded over their pregnancies. Now, Fern can't let her go.
Does she have something to do with the strange things happening in the house? Paul fears his wife has relapsed, obsessing in the same way she did with her twin. Fern questions the neighbours about the previous owner, but nobody wants to talk. It's like the woman never even existed. Refusing to give up, Fern uncovers a shocking secret and now suddenly her whole family is in danger… 
The Woman Before is a chilling psychological thriller about a house of secrets, perfect for fans of Claire Douglas and Lisa Stone.
Publication date:
Thursday 15 September 2022
Buy online from