The Rough Guide to the Dark Side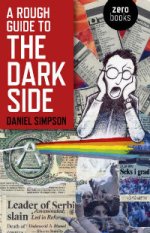 Author: Daniel Simpson (Clare 1993)
Publisher: John Hunt Publishing
Ever dreamed of changing the world? Daniel Simpson shows how not to do it. His memoir charts a gonzo career at The New York Times. Ambitious and idealistic, he was hired to report on the Balkans but quit within months, freaked out by his editor's zeal for starting wars.
Disillusioned, he went native in Belgrade. Together with the charismatic G, who had appeared one night in lavish puffs of dope smoke, he decided to organize a Serbian version of Woodstock: a festival on an island in the Danube. Music could revolutionize the country. It was run by a wartime mafia, and most young people dreamed of leaving. But what if they made it Ibiza crossed with Glastonbury? To fund this transition, they hustled his contacts. But shady local businessmen had other ideas. Mr Big muscled in, and embroiled them with his henchmen.Why do good intentions go awry?
With brutally honest humor, Daniel recounts his journey to the edge, and a desperate drug-fuelled quest for the truth. A Rough Guide To The Dark Side is a real-life trip through Balkan organized crime. More irreverent than McMafia, it has the vicarious kicks of Mr Nice and Shantaram, plus the travelogue style of a Bill Bryson or Tony Hawks, but with added bile and an overdose of drugs.
Buy online from