The Railways of Great Britain: A Historical Atlas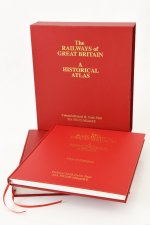 Author: Col. Michael Cobb MA FRICS MInstRE PhD
Publisher: Riley Dunn & Wilson Ltd
The only railway atlas to Great Britain in existence and the definitive historic guide to all the railways in Britain, both existing and lost. All train lines in operation between 1807 and 1994 are dramatically set in colour against an Ordnance Survey grid, alongside the names of the companies that built them, and the opening and closing dates of the stations they connect.
This formidable luxury atlas is a vital tool for anyone interested in railways and the history, geography and economy of Great Britain.
Colonel Cobb was awarded a PhD by Cambridge University for this work at the age of 91, making him the oldest person on record to be awarded a PhD by the university.
Cambridge alumni can buy an atlas for the special discounted price of £295.
To redeem this offer, please visit www.railwaysofgreatbritain.com/purchase-now and quote MAGDALENE2008 in the additional comments box.
(Free P&P, offer available to UK mainland residents only)
Buy online from