The Offset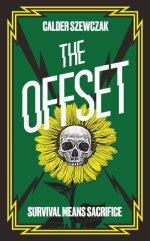 Author: Calder Szewczak (Natasha Calder and Emma Szewczak, both Corpus Christi 2013)
Publisher: Angry Robot
THE OFFSET is a work of science fiction that explores the issues of environmentalism and anti-natalism, positing a world in which, on their eighteenth birthday, every child must choose one of their parents to die as a carbon offset for their own life. The book has been compared to Sophie's Choice and The Handmaid's Tale, and described as "the science fiction novel for our times" by science journalist Angela Saini.
ABOUT THE BOOK
In a dying world, the Offset ceremony has been introduced to counteract and discourage procreation. It is a rule that is simultaneously accepted, celebrated and abhorred. But in this world, survival demands sacrifice, so for every birth, there must be a death.
Professor Jac Boltanski is leading Project Salix, a ground-breaking new mission to save the world by replanting radioactive Greenland with genetically modified willow trees. But things aren't working out and there are discrepancies in the data. Has someone intervened to sabotage her life's work? Meanwhile, her daughter Miri, an anti-natalist, has run away from home. Days before their Offset ceremony where one of her mothers must be sentenced to death, she is brought back against her will following a run-in with the law. Which parent will Miri pick to die: the one she loves, or the one she hates who is working to save the world?
SELECTED PRAISE
"Thrilling, terrifying and beautifully crafted, THE OFFSET is the perfect science-fiction novel for our times. I devoured it." – Angela Saini, author of Inferior
''THE OFFSET could do for environmentalism what Nineteen Eighty-Four did for socialism and Brave New World did for eugenics.'' – Ken MacLeod, Prometheus and BSFA Award-winning author of The Corporation Wars series
"Calder Szewczak's THE OFFSET may be a literary first in giving central place to anti-natalism" – David Benatar, world-leading anti-natalist and author of Better Never to Have Been
"An honest, terrifying and sincere look into our future." – Keren Landsman, Geffen Award-winning author of The Heart of the Circle
ABOUT THE AUTHOR
Calder Szewczak is writing duo Natasha C. Calder and Emma Szewczak (matriculated as Emma Harris), who met at Corpus Christi College. Some of the text – and the science behind it – was based on Emma and Natasha's experiences in the MRC-LMB, Addenbrookes. Natasha is a graduate of Clarion West 2018 and her work has previously appeared in The Stinging Fly, Lackington's and Curiosities, amongst others. Emma researches contemporary representations of the Holocaust and has published work with T&T Clark and the Paulist Press.
Publication date:
Tuesday 14 September 2021
Buy online from