The Mountbattens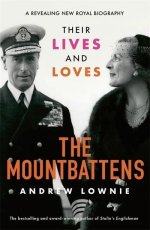 Author: Andrew Lownie (Magdalene 1981)
Publisher: Bonnier
A major figure behind his nephew Philip's marriage to Queen Elizabeth II and instrumental in the royal family taking the Mountbatten name, Dickie Mountbatten's career included being Supreme Allied Commander of South East Asia during World War Two and the last Viceroy of India. Once the richest woman in Britain and a playgirl who enjoyed numerous affairs, Edwina Mountbatten emerged from World War Two as a magnetic and talented charity worker loved around the world.
From the prize-winning and bestselling historian, Andrew Lownie, comes a nuanced portrayal of two very unusual people and their complex marriage to mark the 40th anniversary of Lord Mountbatten's assassination by the IRA.
From British high society and the South of France to the battlefields of Burma and the Viceroy's House, this is a rich and filmic story whose characters include all the key figures of the Second World War. From Churchill and Montgomery to Roosevelt and Eisenhower; the Royal Family, including the Duke of Windsor, George VI, the Queen, Prince Philip and Prince Charles; to Charlie Chaplin, Noel Coward, Salvador Dali, George Gershwin, Grace Kelly and Merle Oberon.
Buy online from