The Lonely Century: Coming Together in a World that's Pulling Apart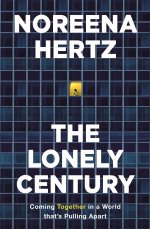 Author: Noreena Hertz
Publisher: Sceptre
Even before a global pandemic introduced us to terms like social distancing, loneliness was well on its way to becoming the defining condition of the twenty-first century.
Combining a decade of research with first-hand reporting, Noreena Hertz takes us from 'renting a friend' in New York to Belgian far right festivals replete with face-painting and bouncy castles, from elderly women knitting bonnets for their robot caregivers in Japan to isolated remote workers in London during lockdown.
All around us, the fabric of community is unravelling and our personal relationships are under threat. And technology isn't the sole culprit. This crisis stems from the dismantling of civic  institutions, the radical reorganisation of the workplace, the way we live and love now and decades of neoliberal policies that placed self-interest above the collective good.
Nor is this merely a mental health crisis. Loneliness increases our risk of heart disease, cancer and dementia. Statistically, it's as bad for our health as smoking fifteen cigarettes a day. It's also an economic crisis, costing us billions annually. And it's a political crisis, as feelings of marginalisation fuel divisiveness and extremism around the world.
Offering bold solutions ranging from compassionate AI to innovative models for urban living, to new ways of reinvigorating our neighbourhoods, The Lonely Century offers a hopeful and empowering vision for how to heal our fractured communities and restore connection in our lives.
Publication date:
Thursday 10 September 2020
Buy online from