The Great English Golf Boom, 1864-1914: A History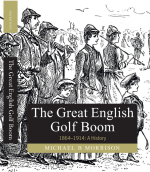 Author: Michael B Morrison (Darwin 1978)
Golf had been played in Scotland for centuries with virtually no interest expressed in it south of the border. By the mid-19th century it was acknowledged as the national sport of Scotland, while the English remained stubbornly unmoved by the game. Even when other sports such as football, cricket, rugby and tennis were taking off in England in the 1870s, golf was only played by a small minority in a scattering of places around the country.
But then it happened. Between 1890 and the commencement of the First World War, over a thousand golf clubs came into existence, nearly one new club every week for a quarter of a century. In the process, England quickly overtook Scotland as the country where most golf was played. This was not just a well-timed sprint, the resilience of these clubs has been quite remarkable – over 750 of them still exist today, accounting for nearly half of all the golf clubs in England.
Based on original research, and drawing on a large array of data sources, the book presents a wholly new account of the origins, growth and spread of golf in England during this extraordinary epoch. New insights challenge some long-standing perceptions (e.g. the role of the railways) and answers are provided to vital questions. Why did it take so long for golf to catch on? What triggered the boom? How did golf spread around the country? Who were the golfers? And, most fundamentally of all – why did this great boom happen when it did?
Buy online from