The Ellington Century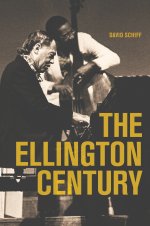 Author: David Schiff (Clare 1967)
Publisher: University of California Press
Breaking down walls between genres that are usually discussed separately - classical, jazz, and popular - this highly engaging book offers a compelling new integrated view of twentieth-century music.
Placing Duke Ellington (1899-1974) at the center of the story, David Schiff explores music written during the composer's lifetime in terms of broad ideas such as rhythm, melody, and harmony. He shows how composers and performers across genres shared the common pursuit of representing the rapidly changing conditions of modern life.
The Ellington Century demonstrates how Duke Ellington's music is as vital to musical modernism as anything by Stravinsky, more influential than anything by Schoenberg, and has had a lasting impact on jazz and pop that reaches from Gershwin to contemporary R&B.
Publication date:
Wednesday 6 February 2013
Buy online from