The Dictator's Wife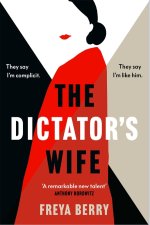 Author: Freya Berry (Trinity 2010)
Publisher: Headline Publishing Group
My debut novel follows a captivating dictator's wife standing trial for her dead husband's crimes in post-communist eastern Europe, and the web of lies she weaves around the young female lawyer defending her.
Published as a lead launch by Headline Review as 'the most darkly gripping debut of the year'.
I used to be a journalist and the story was inspired by my coverage of the 2016 US election, watching Melania Trump, plus research on the likes of Asma al-Assad, Imelda Marcos etc. It explores female power, moral ambiguity, memory and forgetting, and the mother/daughter relationship.
Author endorsements
'A captivating story of women's power, love and secrets. As timely and profound as it is unforgettable. The ending left me breathless' - LARA PRESCOTT, New York Times bestselling author of The Secrets We Kept
'A gripping and moving debut from a talent to watch' - HARLAN COBEN
'A fascinating exploration of absolute power, female agency and the complexities of complicity. Atmospheric, claustrophobic and so elegantly written' - ELLERY LLOYD
'A darkly atmospheric, rich, compulsive and page-turning read' - KATE HAMER
'One of the most original debuts I have read' - DAISY GOODWIN
'Excellent. Horrifying and immersive with strong characterisation and atmosphere' - HARRIET TYCE
Publication date:
Thursday 17 February 2022
Buy online from