The Best Water Skier in Luxembourg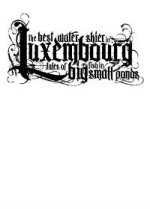 Author: Keith Kahn-Harris (Robinson 1991)
The Best Waterskier In Luxembourg recounts sociologist Keith Kahn-Harris's encounters with those who dedicate their lives to the pursuit of excellence while almost no one else is looking. It's a book about unsung heroes, in unsung communities, doing incredible things. It's mostly travelogue, with a bit of sociology thrown in. It's also a challenge he has set himself to discover worlds he knows nothing about, to search out the odd, the quirky and the eccentric but not to ridicule them. Even when he uncovers amusing stories, Keith seeks to examine what drives people to excel and the communities that sustain them.
Last year, through Unbound.com, Keith managed to fund the first chapter and went off to Luxembourg to find the eponymous hero. Keith found him, but but there was so much more too - the Luxembourg water skiing scene has an extraordinary history and an interesting future. He met the stalwarts of Luxembourg water skiing – including Sylvie Hülsemann, Luxembourg's former world champion – and heard stories of passion, pleasure, pain and extreme moisture.
Now that Mission Luxembourg has completed, the next step is to fund expeditions to find:
The most powerful politician in Alderney
The Icelandic special forces
Malta's favourite soft drink
The best-selling novelist in Suriname
The most popular heavy metal band in Botswana
How you can help:
This is not a solitary quest and Keith will need all the help he can get. Find out how you can help at unbound.co.uk/books/the-best-water-skier-in-luxembourg
Follow Keith on Twitter @KeithKahnHarris, find the book's fan club on facebook or watch the video.
Buy online from