Still the Best Loved Game?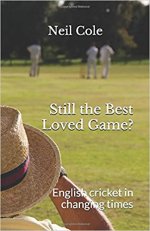 Author: Neil Cole
Publisher: Two Hens Press
"A thoughtful take on the English game before it embarks on a new era with The Hundred... a worthy read for those interested in debating the enduring legacy of the game". The Cricketer Magazine, August 2019.
Makes "the broader point that cricket's landscape changes like the weather." Wisden, November 2019.
English cricket is at a crossroads. Many fear the ECB's new Hundred competition, with its city-based franchises, threatens the very existence of county cricket. With live matches not seen on terrestrial television since 2005, and the game in apparently terminal decline in state schools, many children are growing up barely even aware of the game, let alone playing it. Meanwhile, across the country clubs are folding at an unprecedented rate as people no longer have the time or inclination to play. Even Test cricket, we are repeatedly told, is dying. Yet, there is more money in the game than ever before, women's cricket is booming and watched by record crowds, and the fortunes of the national side can still make headline news. In Still the Best Loved Game? In the most inclusive book on the game yet written, the author takes us through a season of English cricket, from Lord's Test to village green, women's international to the Cup Final, university match to disability cricket. In doing so, he surveys the game, those who play and watch it, and the issues that surround it, and considers where it is heading. Is cricket really dying? Or are there yet grounds for optimism for a healthy future for England's national summer sport?
Buy online from