Rethink: Leading Voices on Life After Crisis and How We Can Make a Better World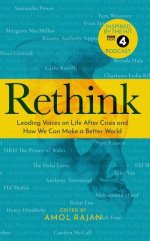 Author: Amol Rajan (editor)
Publisher: Ebury Publishing
After darkness, there is always light.
Based on the hit BBC podcast, and with introductions by presenter and journalist Amol Rajan, Rethink gives us the opportunity to consider what a better world might look like and reaffirms that after darkness there is always light.
In a time of increasing uncertainty, Rethink offers a guide to a much-needed global 'reset moment', with leading international figures giving us glimpses of a better future after the pandemic. Each contribution explores a different aspect of public and private life that can be re-examined - from Pope Francis on poverty and the Dalai Lama on the role of ancient wisdom to Brenda Hale on the courts and Tara Westover on the education divide; from Elif Shafak on uncertainty and Steven Pinker on Human Nature to Xine Yao on masks and Jarvis Cocker on environmental revolution. Collectively, they offer a roadmap for positive change after a year of unprecedented hardship.
Cambridge contributors:
Kwame Anthony Appiah (Clare 1972) 
Jude Browne (Clare 1996) 
Clare Chambers (Fellow, Jesus) 
Jared Diamond (Trinity 1958) 
Peter Frankopan (Jesus 1990) 
Emma Griffin (Trinity 1996) 
Brenda Hale (Girton 1963) 
James Harding (Trinity 1988) 
Peter Hennessy (St John's 1966) 
Onora O'Neill (Former Principal of Newnham College) 
V.S. Ramachandran (Trinity 1974) 
Tara Westover (Trinity 2008) 
HRH The Prince of Wales (Trinity 1967) 
Buy online from