Portraying Pregnancy: from Holbein to Social Media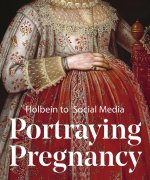 Author: Karen Hearn (Girton 1972)
Publisher: Paul Holberton Publishing
This book offers a new lens through which to look at history and art history, by rethinking the context in which portraits of women have been made over 500 years. Although up to the early 20th century many women spent most of their adult years being pregnant, their pregnancies are seldom made apparent in surviving portraits.   'Portraying Pregnancy' considers the different ways in which a sitter's pregnancy was, or was not, visibly represented to the viewer.    
Comprising material from c.1450 to the present day, 'Portraying Pregnancy' accompanies a landmark exhibition at The Foundling Museum in London, which has been the first ever to focus on portraits of pregnant women in British art.  It is extensively illustrated with painted portraits, drawings, miniatures, prints, photographs, sculpture, textiles and other objects, and interrogates how the social mores and preoccupations of different periods have impacted the ways in which pregnant women have been depicted.    
Written by Karen Hearn, the leading expert on this topic, 'Portraying Pregnancy' chronologically addresses: representations of pregnancy in a religious context; early popular and medical understanding of pregnancy; dress and fashion; pregnancy portraits in Tudor- and early Stuart England; mid 17th-century female portraits;
18th-century British grand portraiture; the rarity of 19th-century images of pregnant sitters; the shift in early 20th-century male artists' depictions of their wives and partners, as they began to celebrate pregnancy visually; British women artists addressing their own pregnancies in their work; and a range of later 20th-century and 21st-century nude portrayals.
Buy online from