Nine Lessons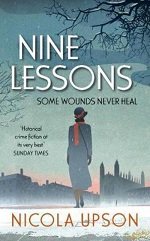 Author: Nicola Upson (Downing 1988)
Publisher: Faber & Faber
In the years before the Great War, M.R. James told ghost stories by candlelight to a handful of friends and scholars after the Christmas Eve carol service at King's College. Now, twenty-five years later, those men are dying, killed off one by one...
Josephine Tey is in Cambridge, Christmas is approaching, but the town is gripped by fear and suspicion as a serial rapist stalks the streets, and in the shadow of King's College Chapel, Detective Chief Inspector Archie Penrose faces some of the most horrific and audacious murders of his career.
The seventh novel in Nicola Upson's highly praised series featuring Josephine Tey takes the reader on a journey from 1930s Cambridge to the bleak and desolate Suffolk coast - a journey which will ultimately leave Archie's and Josephine's lives changed forever.
Publication date:
Thursday, 2 November 2017
Buy online from